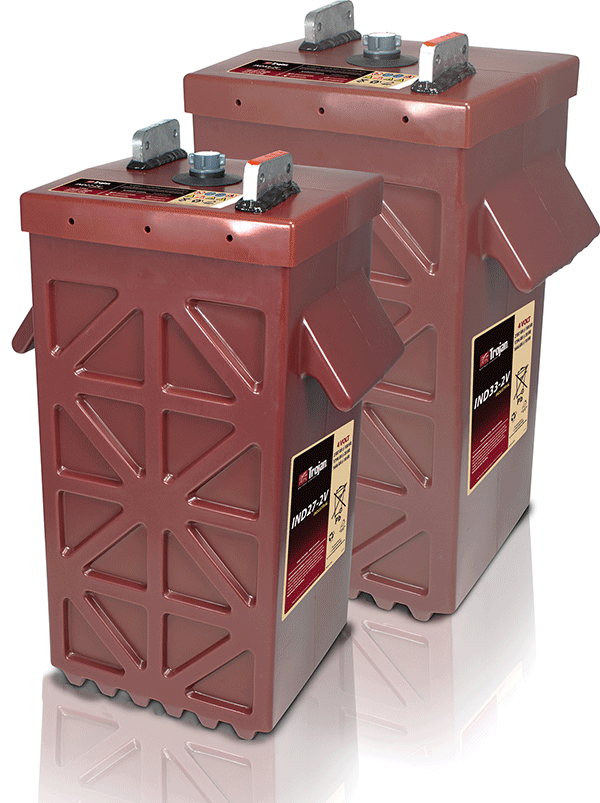 Trojan Battery Co. has announced that its Industrial line of batteries for renewable energy applications has achieved a major milestone in Trojan's ongoing IEC 61427 testing by surpassing a 15-year cycle life.
Trojan has been conducting IEC 61427 testing on its deep-cycle, flooded Industrial batteries since October 2010, and results to date show that the batteries are outperforming their rated 10-year design life.  Because Trojan's deep-cycle batteries are designed to operate at partial states of charge, the testing parameters being performed involve heavily discharging the batteries, which is a typical scenario in solar applications. By stressing the batteries and operating them in this abusive testing environment, Trojan's goal is to evaluate the overall effectiveness of the battery line's ability to perform in renewable energy applications where operating at a partial states of charge is common.
Trojan is following IEC cycle endurance testing parameters based on photovoltaic applications where the batteries are exposed to a large number of shallow cycles at different states of charge, inherent in renewable energy environments. The cycle endurance test is an accelerated simulation in extreme conditions of the battery's operation in a photovoltaic energy system, and is conducted by submitting the single 2 V cell to a period of 150 cycles. Even though the Industrial line has surpassed the equivalent of a 15-year cycle life test, Trojan's engineering team reports that IEC 61427 testing of the Industrial line is still in progress after 2,250 cycles.
The Industrial line supports large daily loads where the batteries are cycled regularly. The batteries are engineered for high-energy requirements delivering 1,500 cycles at 80 percent depth-of-discharge, and features advanced battery technologies that provide optimum performance.