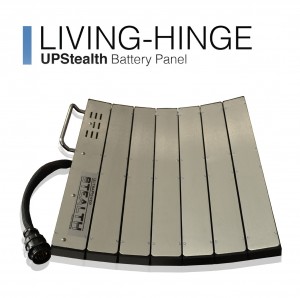 Blue Earth Energy Power Solutions (BEEPS), a division of Blue Earth, Inc., now offers a lead-acid free battery backup system (BBS) for the traffic industry called the UltraPower Stealth Battery Backup System (UPStealth).
The UPStealth, designed to run traffic intersections in the event of utility power failure, is a BBS that utilizes Nickel Zinc. Departments of Transportation and City Agencies face many challenges with current lead-acid BBS; heavy, corrosive/hazmat issues, lack of reliability and ongoing maintenance requirements. The UPStealth was designed and created by BEEPS to address the frustrations, challenges and unpredictable budget impact agencies are exposed to with lead-acid systems.
The UPStealth's design allows for installation of the battery panel in the primary traffic cabinet between the cabinet rack and cabinet shell.  This design makes for quick and easy installation, typically in less than one hour. Fitting inside of nearly all types of primary traffic cabinets, the UPStealth eliminates the need for Piggyback or Stand-alone cabinets. Providing more energy in less space, the UPStealth is approximately 70 percent lighter in weight than typical lead-acid BBS.
Reliability and intelligence is designed into every UPStealth. The UPStealth battery design has built in chargers/monitor boards that provide four hour recharge times, regardless of how many battery packs are connected. The UPStealth generates little to no heat, which correlates to maximum energy performance. In addition, the NiZn chemistry utilized by the UPStealth is 100 percent recyclable and RoHS compliant.
The intelligent battery panel is operated by the UPStealth inverter/controller. The UPSteath's inverter/controller constantly monitors the AC line voltage, and in the event of a power failure, switches the cabinet power to the inverter/controller output in less than 8 milliseconds. The UPStealth communicates with a PC using a USB port or optional Ethernet port.