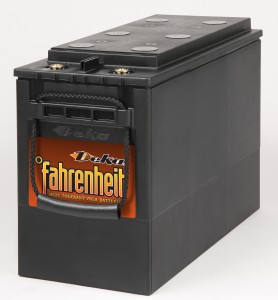 East Penn Manufacturing, Co., Inc. has released  the Deka Fahrenheit, a heat-tolerant VRLA (Valve-Regulated Lead Acid) monobloc battery. The Deka Fahrenheit is designed to survive in the uncontrolled high temperature environments typical of telecommunication outside plant cabinets. Supported by extensive Telcordia life testing, its exclusive design has shown to last up to three times longer in high heat applications than standard
VRLA product at 60°C. This not only saves significant cost from reducing the need of expensive cooling systems, but also conserves the energy that powers these systems while reducing the site's CO2 footprint.
Elevated temperatures have always been one of lead-acid batteries' more formidable foes. The Deka Fahrenheit, developed through extensive component research, process evaluation, scientific analysis and conclusive testing, has integrated special features that have led to a true innovation in high temperature VRLA battery performance.
The Deka Fahrenheit features a cutting-edge Thermal Management Technology System featuring a new case and cover plastic formula, a Micro Catalyst, TempX Additive, and a Corrosion Inhibitor Alloy. The new plastic formula is a heat resistant composite structure to optimize internal compression and enhance valve regulation performance. The Micro Catalyst lowers float current, mitigates thermal buildup, and prevents cell dry out. An exclusive TempX Additive in the negative plate decreases float current by up to 75 percent to withstand the affect of high heat while increasing life in higher temperatures. On the positive plate, a special Corrosion Inhibitor Alloy blend impedes corrosion
even under the highest temperature extremes.
In addition to its Thermal Management Technology, Deka Fahrenheit batteries feature East Penn's  IPF (Individual Plate Formation) Technology, full recycling capabilities, and front access terminals, all in a strategic footprint that accommodates existing racking and cabinets.
Exclusive IPF Technology assures the full formation and inspection of every battery plate. This optimizes power capacities and ensures consistent cell-to-cell voltages critical to long-life reliability. East Penn's well-known front access terminal configuration provides a space saving, safer design that maximizes convenience in high-powered battery systems.