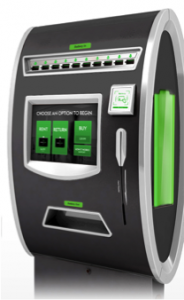 MobileQubes, the first rent and return full-service network of cord-free mobile charging kiosks, launches its pilot phase this week in New Orleans. The smartphone charging solution is solving the problem high traffic venues, such as airports, convention centers and large restaurant chains face where a large number of smartphone users are in transit and don't have time or access to power outlets. This unique distribution model is strategically planned for replication to new markets in early 2015. The battery pack rental is $4.99 for the first day and $0.99 cents per each following day up to seven days, or customers can simply choose to purchase a battery pack for $39.99.
The plug-and-play battery packs, or "Qubes," are compatible with all iPhone and Android devices and connect directly into a device's charging port. The rent-and-return or purchase process at a MobileQubes kiosk is a simple, user-friendly, three-step credit card transaction. The light, lithium-ion polymer compact battery Qubes provide customers portable power to keep their phones charged and their owners on-the-go with twice the power at a fraction of the cost of current industry leaders. Once a customer is finished charging their device, they can return the Qube to any MobileQubes kiosk across the country, where the Qube will automatically be recharged and prepared for rental to the next customer.
MobileQubes' concept was born from cofounder and CEO Sean Carrigan's simple, but recurring and annoying issue – a dying battery in a public arena while waiting for two important calls. Carrigan thought it would be much more convenient for mobile users in transit to rent a charger that allows them to keep using the device anywhere, while it's charging.
"We're excited to be the first company providing a convenient, affordable solution to the universal problem of insufficient battery life for the 165 million smartphone users in the US," said Carrigan. "Launching the technology at one of the country's top destination cities is proof of the confidence we have in our Qubes to get the job done, keeping consumers, fans and travelers connected and eliminating the hassle caused by a dead or dying battery."
"We are really excited to provide this innovative technology to the more than 1,000 guests who visit us each month," said president of Walk-On's Enterprises Scott Taylor. "MobileQubes will undoubtedly alleviate a huge pain point that bar/restaurant guests across the country face on a daily basis, the need for on-the-go power."