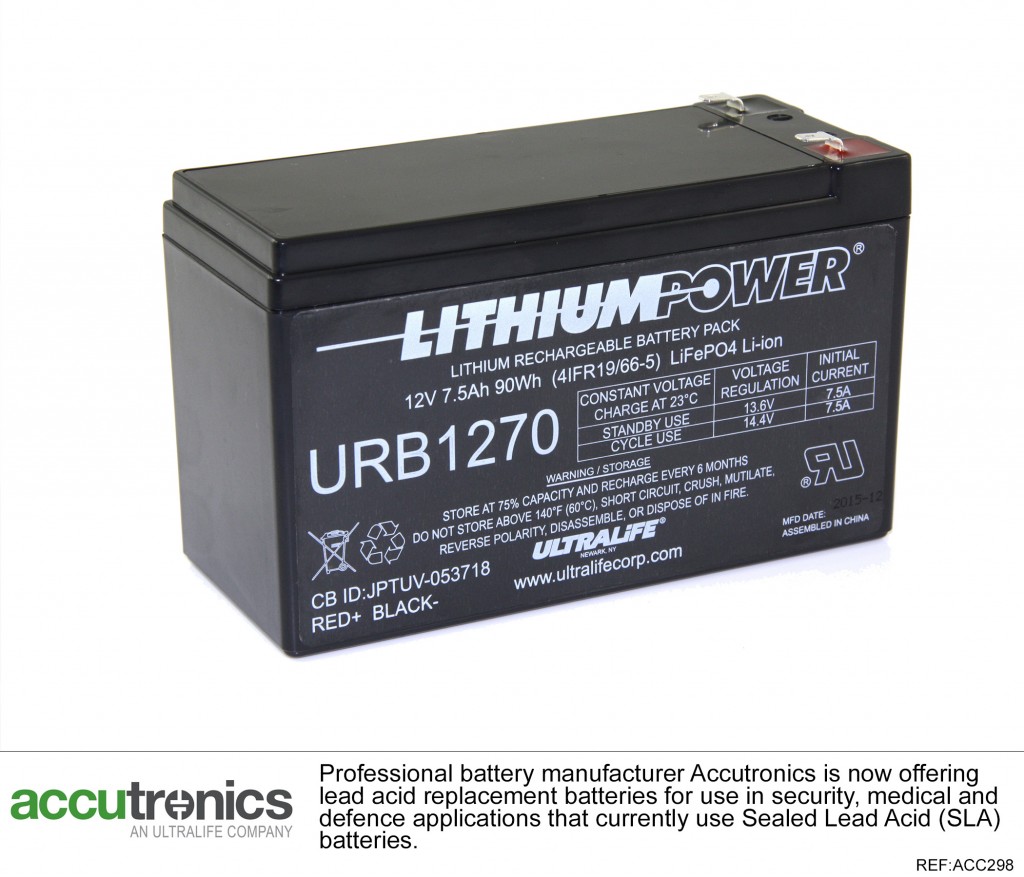 Accutronics is now offering lead acid replacement batteries for use in security, medical and defence applications that currently use Sealed Lead Acid (SLA) batteries. The range, manufactured by their parent company US battery specialist Ultralife, uses Lithium Iron Phosphate (LiFePO4) battery chemistry to improve the service life and performance of devices using SLA batteries.
LiFePO4 technology is a well suited replacement for SLA batteries due to the inherent safety of the chemistry and the similar charging method. LiFePO4 has major advantages in terms of energy density and performance over life, especially in cyclic applications where SLA fails to deliver. LiFePO4 technology is ideal for applications as diverse as uninterruptible power supplies, automated floor cleaning machines and glider avionics.
The typical service life of LIFePO4 batteries is five to seven years, making them much more effective for devices in remote applications. In order to maximize long-term performance, Ultralife's LIFePO4 range employs an internal battery management system (BMS) that ensures protection from over-charging and over-discharging, which can cause damage over time.
Ultralife LiFePO4 batteries are also three times lighter than lead acid batteries of the same energy and as such by replacing lead acid batteries with Ultralife LiFePO4 batteries, customers can significantly reduce the weight of their existing system or get three times the energy if weight reduction isn't a factor.  LiFePO4 batteries also have the ability to be mounted in any orientation and do not require any physical maintenance.
"Many critical or remote devices that use SLA batteries face problems with longevity," explained Neil Oliver, technical marketing manager of Accutronics. "While they may seem like a quick and easy solution for powering devices, they typically require maintenance and servicing every two years. When you consider the associated expense of this, it makes for a relatively high total cost of ownership. LIFePO4 batteries remain effective up to three times longer with less cell degradation over time, while still delivering a similar charging voltage to SLA solutions. This removes any redesign costs for devices upgrading to LIFePO4."
The Ultralife range of LIFePO4 batteries consists of six 12.8V batteries, ranging from 96Wh to 1280Wh and a 6.4V model offering 29Wh. Each battery is certified to IEC 62133:2012 and CB test certificates are available upon request.
Accutronics, which was acquired by the Ultralife Corporation in January 2016, now offers the full range of products which the Ultralife Battery & Energy division manufactures – its range of cells, pre-engineered batteries and power systems, to businesses in the medical, defense and instrumentation industries.