Aqua Metals  has produced the first-ever AquaRefined lead at its flagship AquaRefinery in McCarran, Nevada. AquaRefining is a water-based, room-temperature process and is the only clean lead recycling method.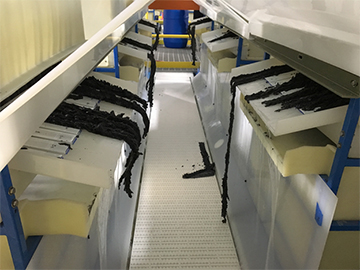 "This is a major milestone – not just for our company, but for the entire industry," said Dr. Stephen R. Clarke, Chairman and CEO of Aqua Metals. "Our commercial-scale AquaRefining modules have the potential to revolutionize lead recycling and make lead-acid batteries the only truly sustainable battery technology. We are confident that our lead products will exceed the most rigorous industry specifications. I am extremely proud of our entire team for making this dream a reality."
AquaRefining uses an entirely reusable water-based technology to produce ingots of ultrapure lead. Through its own on-site assay, Aqua Metals has verified that the lead produced in the AquaRefining module is over 99.99 percent pure. The company will send its initial production samples to several US battery manufacturing companies, which collectively represent more than 50 percent of US battery production, to allow them to conduct their own assays.
Aqua Metals previously demonstrated the effectiveness of its technology at bench scale, pilot scale and with a single, full-size electrolyzer. The Company has now produced high-quality AquaRefined lead with a commercial-scale AquaRefining module at its facility in the Tahoe-Reno Industrial Center in Nevada.
"This is the most critical step in the commissioning process of the Nevada AquaRefinery," Dr. Clarke continued. "Over the coming weeks we plan to fully integrate the front-end battery-breaking portion of the facility."
Aqua Metals manufactures AquaRefining modules at its headquarters in Alameda, California.   The Company has built and delivered a total of five modules to its Nevada AquaRefinery thus far and currently plans to install and commission a total of 16 modules for initial production capacity of 80 metric tons of lead per day. The company anticipates that the Nevada AquaRefinery will reach its initial production capacity within the coming months.
Aqua Metals has formed strategic partnerships with Interstate Batteries and Battery Systems International and is in discussions with nearly every major US based battery manufacturer and recycler, as well as data center operators and household internet brands (which use lead-acid batteries for backup power).