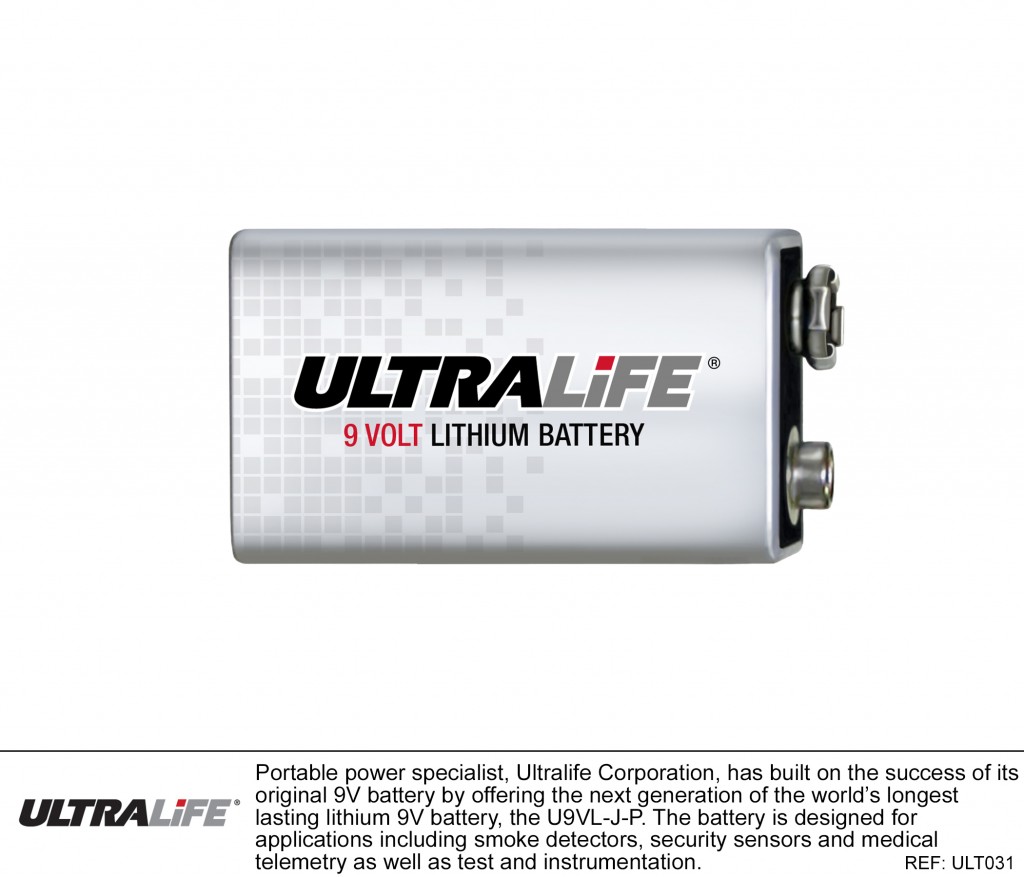 Portable power specialist, Ultralife Corp., has built its original 9V battery by offering the next generation of  long lasting lithium 9V battery, the U9VL-J-P. With key improvements to its energy density and cell technology, the battery is designed for applications including smoke detectors, security sensors and medical telemetry as well as test and instrumentation.
Launched in 1991, the original battery has sold more than 100 million units worldwide. The next generation battery builds on this success, using a lithium-manganese dioxide chemistry, which delivers a stable discharge and high energy density.
The U9VL-J-P weighs 37g and conforms to the dimensions of ANSI 1604 – the same size as a standard 9 V battery. Because of Ultralife ThinCell technology, where three individual thin foil cased cells are combined to create a 9 V battery, it achieves a capacity of 1,200 mAh.
"As we've seen from recent reports in the media, high energy lithium batteries can pose a risk of fire when things go wrong," said Bernd Rosati, European Sales Manager at Ultralife Corp. "To make it the safest battery possible, the U9VL-J-P is constructed with a shutdown separator and a temperature and current (PTC) safety device.
"We've also reduced the battery's internal impedance by enhancing its design. This means that it can supply a higher power output with a stable voltage. This is great for demanding applications such as security systems, telemetry products, smoke or carbon monoxide alarms, test and instrumentation and medical devices where a high-pulse current improves operation."
The Ultralife lithium 9 V battery offers a shelf life of up to ten years, even in tough environments. The battery has an operational discharge temperature between -40°C and 60°C, making it well suited  for indoor and outdoor use.
The U9VL-J-P complies with Underwriters Laboratories' UL1642, UL2054 and UL217 specifications, features a non-magnetic structure and qualifies for several exceptions under Class 9 shipping regulations. The battery is also available in various packaging including a blister pack, a bulk pack and a foil pouch as well as a version for contractors.