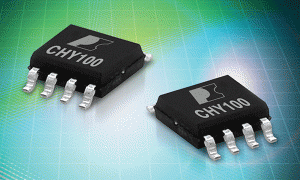 Power Integrations has introduced CHY100, the first AC-DC wall-charger interface IC that enables designers of mobile devices to implement the Quick Charge 2.0 protocol from Qualcomm Technologies, Inc. Launched earlier this year, Quick Charge 2.0 enables users to charge mobile devices up to 75 percent faster than when using conventional technology, while maintaining backwards compatibility and interoperability with existing USB charging standards (USB BC1.2).
Used in combination with Power Integrations' AC-DC switcher ICs, the CHY100 incorporates all the necessary elements required to add Quick Charge 2.0 functionality to AC-DC wall chargers. The CHY100 detects commands from a Quick Charge 2.0-enabled device, such as a cellphone handset, and adjusts the output of the AC-DC wall charger to enable increased power delivery to the device's battery. When plugged into a powered device without Quick Charge 2.0 capability, the CHY100 automatically disables the higher-voltage/higher-power capability to ensure safe operation. Tests confirm that smartphones with high-capacity batteries can be fully charged in as little as one hour using Quick Charge 2.0, an improvement from the four-hour charging cycles characteristic of conventional USB charging technology.According to Balu Balakrishnan, CEO of Power Integrations, "Qualcomm Technologies' Quick Charge 2.0 technology represents a major step forward for users of mobile devices. As devices have become increasingly power-hungry, OEMs have responded by designing in larger, longer-lasting batteries.
Unfortunately, the limited power-delivery capabilities of standard wall chargers has led to longer charge times, resulting in increased downtime for users. Qualcomm Technologies' Quick Charge initiative helps resolve the charging bottleneck, and we are delighted to be a part of the solution."
The CHY100 is suitable for battery chargers for smartphones, tablets, netbooks, digital cameras and Bluetooth accessories as well as USB power output ports. Devices are available in SOIC-8 packaging and cost $0.22 each in 10,000 quantities.