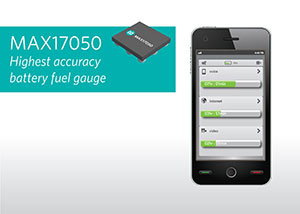 Maxim Integrated Products, Inc. is sampling the MAX17050, a battery fuel gauge. It uses the company's patented ModelGauge m3 algorithm, which improves upon the traditional coulomb counting approach by combining it with the patented voltage-based ModelGauge approach. The MAX17050 provides the best possible accuracy, uses four-times less power, and shrinks solutions by three-times compared to competitive devices. The device is well suited for portable applications where battery capacity and state-of-charge accuracy is critical, including smartphones, tablets, mobile radios, battery backup and portable medical/fitness equipment.
Battery fuel gauge designs often depend on coulomb counting technology. Although coulomb counting is highly accurate at first, it tends to drift over time. The MAX17050 integrates the short-term accuracy and linearity of a coulomb counter with the long-term stability of a ModelGauge fuel gauge. The ModelGauge m3 technology makes continuous microcorrections and eliminates sudden jumps in a battery's state of charge (SOC). Users can trust the resulting battery capacity and state information, including the health and maximum battery usage. The MAX17050 functionality is also integrated into the company's TINI Power system-on-chip (SoC) to make it easier to upgrade designs to more complex systems.
"Mobile device manufacturers are increasingly paying attention to enhancing user experience to set themselves apart from their competition," said Bakul Damle, business director at Maxim Integrated. "Having a trustworthy fuel gauge to correctly inform the user about the battery status, as well as the health of the battery, helps achieve this goal. Moreover, this best-in-class fuel gauge IP block is available for integration in Maxim Integrated's highly integrated Power SoC."
Available in a 0.4 mm pitch, nine-bump wafer-level package (WLP). Pricing starts at $1.51 (1,000-up, FOB USA).