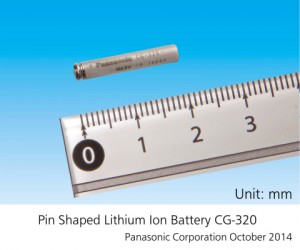 Panasonic Corp. has developed a Pin Shaped Lithium Ion Battery (CG-320, nominal capacity 13 mAh) with a diameter of 3.5 mm and a weight of 0.6g suitable for powering small devices such as wearable devices. This product, on top of being the industry's smallest cylindrical shaped rechargeable Lithium Ion battery, features the high reliability and high output required for near-field communications (NFC). Mass production and shipping are planned to begin in February, 2015 with a monthly production of one hundred thousand units.
The full-scale introduction of wearable device products, anticipated widely as the next wave in mobile devices after smartphones, is expected in a wide variety of applications from 2014. Rechargeable batteries, the power source for wearable devices, are expected to be not only small and light, but also to have a high level of reliability and performance.
Panasonic has taken advantage of its battery material technology cultivated with lithium ion batteries used in information and communication equipment applications, and coin-shaped and other small lithium battery production technology, to commercialize this battery, which at 3.5 mm is the industry's smallest pin-shaped lithium ion battery. This product is a rechargeable battery that can be used repeatedly and has the output capability required for NFC. A stainless steel can is used for the exterior providing for dimensional stability. It will be possible to ensure good design for slim devices such as pen-shaped or spectacles-shaped products.
Panasonic will apply the know-how and technology cultivated from many years of material and production technology development to further expand the line-up of this new product, which is an innovation in battery technology.