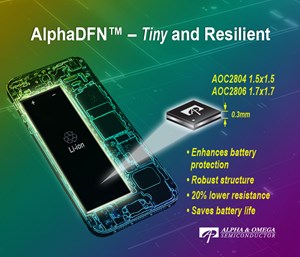 Alpha and Omega Semiconductor Limited (AOS), a designer, developer and global supplier of a broad range of power semiconductors and power ICs, has announced the release of two new MOSFETs optimized for battery protection applications. The AOC2804 and AOC2806 are the latest additions to the AlphaDFN package portfolio that takes chip scale packaging to the next level. These devices are specifically targeting one and two cells portable battery pack applications such as those found in the latest smart phones, tablets, media players and wearable devices.
In mobile battery pack applications the protection MOSFET controls charging and discharging of the battery, and is critical to battery life and battery safety. The new generation of devices is optimized with AOS's proprietary power trench technology, which minimizes RSS (source- to-source resistance) in a common-drain MOSFET configuration.
For the same dimensions, these new devices can deliver 20 percent lower resistance, which makes them well suited for conserving battery life.
AOC2804, 1.5 mm  by 1.5mm, is aimed at 22 m max RSS level applications such as feature phones and wearable devices. AOC2806, with slightly larger dimension at 1.7 mm by 1.7 mm, is a 18 m max RSS device that is best-suited for smart phones.
In addition to the silicon technology, the AOC2804 and AOC2806 feature AOS's proprietary AlphaDFN packaging technology encapsulating silicon in a protective molding compound. The resulting product still provides an ultra-thin 0.3 mm solution, while providing a more robust structure to solve die chipping and placement issues associated with standard CSP products.
AOC2804 and AOC2806 are all Halogen-Free and RoHS compliant.