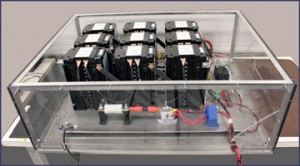 Electro Standards Laboratories (ESL) has released the first of its Energy ActionSystem Lithium Ion Capacitor Development Shelves, the Model 3300-9×12, Cat# 331209. The Lithium Ion Capacitor (LiC) Development Shelf provides a series connection of up to 9 LiC modules (108 LiC cells) along with associated protection, monitoring and cell balancing circuitry that can be incorporated into a larger system design or used by itself in applications requiring high power, high energy LiC energy storage. LiC systems are well suited for applications that require bidirectional high power pulses, very low leakage, very high cycle life and exceptional energy density.
The series connected LiC modules can be operated between 238 VDC and 410 VDC. The Capacitor Module Controller provides LiC cell balancing and fault monitoring that is accessible via a CAN bus interface.  Overcurrent protection is provided by a series connected fuse. Remote connection of the LiC bank and soft start is accomplished via on-board switches that are controlled through the Fault Monitoring Board. The Fault Monitoring Board has a fiber serial interface to allow for remote control of the switches and remote monitoring of under/over voltage and module over temperature faults.  The development shelf is intended to ease the incorporation of LiC modules into a system application.  The shelf is designed for easy mounting in a commercially available equipment rack. Custom configurations are available upon request.
Electro Standards Laboratories has direct experience with pulsed power energy systems, load leveling for wireless electric vehicle charging, wave energy harvesting, and hybrid energy storage systems (HESS) that combine batteries, supercapacitors and converter power electronics. ESL R&D services and its new ULTIMO product line provide its clients with a research and development partner that can assist in any phase of development from conception to production.