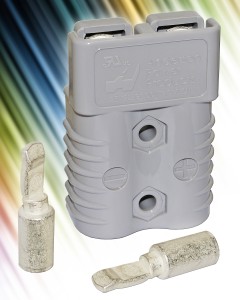 Anderson Power Products (APP) has announced an addition to the SB connector family with the release of their two pole SB 2/0 connector. APP continues to search for ways to offer system designers increased power connections in compact formats. The SB 2/0 offers larger wire capability and increased current carrying capability over the similar sized SB 175 connector.
The proven SB connector family is based on the original "Storage Battery" connector that pioneered flat wiping contact technology over a half century ago. Two to three positions in a genderless, color-coded, mechanically-keyed housing are suitable for a wide array of power connection applications up to 450 amps and 600 V. Low resistance silver plated contacts for wire sizes from 300 mcm (152 mm²) to 16 AWG (1.3 mm²) are held inside rugged non-conductive plastic housings.
SB 2/0 offers the same external dimensions as the  SB 175 connector, but is designed to fit contacts for 2/0 AWG or 70 mm² wires. These modifications allow the new SB 2/0 to offer up to 340 amps of power in the same form factor of the SB 175 connector that is limited to 280 amps. Larger wire sizes also help to minimize voltage drop over extended cable lengths.