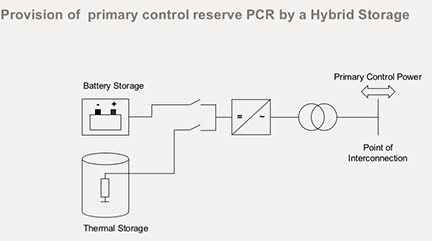 AEG Power Solutions, a global provider of power electronic systems and solutions for industrial power supplies and renewable energy applications, has developed a Hybrid Energy Storage System that combines standard battery storage with power-to-heat technology to reduce the total cost of energy storage operation. The solution can be installed in any type of facility which uses thermal processes, including local heat networks in combination with an electrical distribution network.
With the Hybrid Energy Storage solution from AEG PS, the power conversion system (PCS), becomes the central key element operating the power management and controls both the battery as well as the heating system.  The PCS and all equipment required for grid connection (e.g. transformer and switch gear) therefore are used for both the batteries and the heater. The platform allows for all typical applications of standard battery energy storage in particular, frequency regulation; bby combining both systems, the capacity of the thermal storage adds up to the battery storage capacity.
"Technically, in a stand-alone battery energy storage system it's necessary to keep a battery charge stable at the 50 percent level in order to provide grid frequency regulation," said Andreas Becker, Product Manager at AEG Power Solutions. "By combining it with a power to heat system, we allow extra energy to go to the thermal process. The battery can then operate at 100 percent capacity."
This in fact leads to dividing the battery total capacity required by almost two. Taking into account that they represent usually around 70 percent of an energy storage installation, the economic benefit of the innovation is obvious and the payback period of the investment is approximately three years faster in a primary control power market.