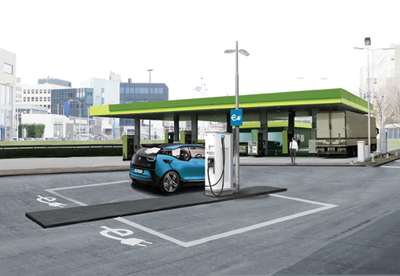 ABB has launched the Terra SmartConnect (SC), a  product that will  improve the business case for installing electric-vehicle (EV) fast chargers throughout North America. Initial shipments will support the CHAdeMO fast-charging standard, with SAE / Combined Charging System units available later this year.
The Terra SC is a cost-effective direct-current (DC) charger specifically designed for convenient fast charging in commercial and office areas. It fully charges an electric car in 30 to 120 minutes, while the driver attends a business meeting, goes to the movies or enjoys a meal. The Terra SC is also ideal for people who want to keep driving but don't necessarily need a full charge: it can charge the battery of currently available EVs from 30 percent to 80 percent in less than half an hour. More applications include workplaces, fleet operators, parking operators, rental companies, car dealerships, shopping malls and the EV infrastructure service providers who serve those applications.
Through the use of open standards, the ABB DC chargers have the ability to integrate seamlessly into existing AC charging networks. "Electric vehicle service providers will find a great benefit in the easy integration of DC charging into their offering," said Cal Lankton, Director of the Electric Vehicle Charging Infrastructure business for North America. "In congested areas, where EV drivers are vying for charging station access, the speed of DC technology will free up more charging stations and capacity for more drivers. This directly translates into greater flexibility for service providers to increase the number, and use frequency, of customers."
Despite its focus on cost minimization, the Terra SC will be fully UL-listed, and comes standard with an outdoor-rated steel housing, a full-color, eight inch, intuitive touch-screen user interface and all the smart connectivity features that ABB's Terra chargers are known for. It is  easy to install at almost any location due to its ultra-thin design and simple floor and wall-mount connections; these features also create maximum space efficiency.
The Terra SC is a web-connected charger that includes a full range of connectivity features, including remote assistance, management and servicing, with smart software upgradeability. Its key optional features include RFiD and PIN code authorization, as well as a web-based statistics module with data per user to support energy usage reporting. ABB's connectivity suite supports all existing and future connection standards within the same network, and immediate "plug-and-play" functionality using the Open Charge Point Protocol (OCPP).
The Terra SC perfectly complements ABB's existing portfolio of fast-charging solutions. ABB's en-route fast charger, the Terra 51, is used mainly in applications which require the fastest charge possible, offering a 15-30 minute "charge and go" service.
The growing number of electric vehicles is driving a global market opportunity for charging solutions, including sophisticated monitoring systems and software to support the electric grid. ABB estimates that the market for charging infrastructure solutions will be worth $1 billion by 2017, and nearly $4 billion by 2020. Since launching Europe's first commercially operated fast-charging station in the Netherlands in May 2010, ABB has delivered and installed many DC charging stations and networks throughout the region. Earlier this year, ABB installed a network of 170 fast chargers throughout Estonia, creating the world's first DC charging infrastructure with full nationwide coverage.