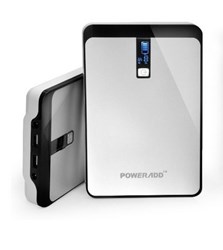 Poweradd has released a high capacity portable external battery, Poweradd Pilot Pro, to its its global customers. Mobile devices have been very popular in the global market, and there are a lot of mobile device users, especially business people, who need anytime-access to dependable power to keep their devices running, so that they can have access to the best information available. Poweradd Pilot Pro is specially designed for these people.
The Poweradd Pilot Pro has a capacity of 3,2000 mAh, which is well suited for business people This portable external battery is compatible with most smartphones, laptops and notebooks on the market.
With the adjustable voltages (5 V/9 V/12 V/16 V/19 V/20 V), Poweradd Pilot Pro can meet various needs for different device models. It has built-in LED indicators that can identify power capacity.