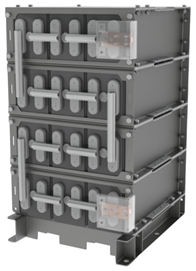 C&D Technologies, Inc., a producer and marketer of complete, integrated, standby power systems has announced a follow up to the newly released Liberty DCS Product Line. This  Liberty DCS line is a 2 volt series of VRLA batteries for both float duty, and cycling duty service with capacities from 900 to 1834 ampere-hours.
This latest product addition incorporates C&D's DCS cycling technology along with the newly released Nano-Carbon technology to enhance cycle performance and partial state of charge (PSoC) performance.
"The Liberty DCS adds a higher capacity product to the highly successful DCS 12 V VRLA product line, allowing customers to now deploy individual cells up to 1834 ampere-hours while reducing their string count for the cycling market utilizing our new, cycle enhancing Nano-Carbon technology", said Jay Frankhouser, Director of Product Management of C&D.
System integrator and Liberty DCS customer Bill Rasmussen of Atlantic Battery Systems located in Patterson New Jersey said, "We chose the Liberty DCS 100LC27FR for a hybrid renewable energy project that needed a long life, deep cycle VRLA battery system capable of operating in occasional PSoC.  The Liberty DCS battery with Next Generation Nano-Carbon technology was perfect for this application."
The modular, Liberty DCS system has unlimited configurations and the front terminal design with the patented C&D Ohmic Ringprovides for fast installation and easy, accurate, ohmic and voltage measurements.