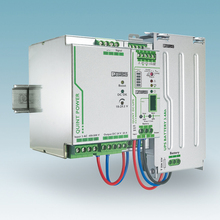 Phoenix Contact's QUINT UPS IQ family now includes both uninterruptible power supplies (UPS) and back-up batteries individually listed for Class I, Division 2 hazardous locations. By combining these components with Phoenix Contact's CID2-listed power supplies, a designer can create an entire system that meets CID2 needs. The CID2 UPS-IQ is available in 120, 240, 480, and 960 Watt versions.
In this modular CID2 back-up solution, any of the UPS devices can be connected to any of the CID2 battery packs without violating compliance to the CID2 approval. To increase the battery back-up time, up to five CID2 battery packs of the same type can be connected to the UPS while maintaining a CID2 listing.
Each individual battery pack is listed for CID2 and UL508. Capacity options include a 1.3 Ah, 3.4 Ah, 7.2 Ah, 12 Ah, 38 Ah valve-regulated lead-acid versions. A 120 Wh lithium-ion option is also available.
The IQ technology within the batteries and UPS products manages the battery status and displays all of the relevant data on the UPS's front panel, or transmits it to a computer. As a result, the user always knows the charge state, remaining buffer time and expected lifetime.