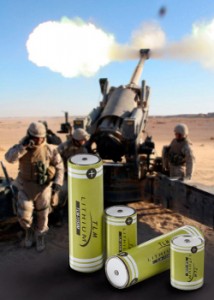 To meet the demanding requirements of military and aerospace applications that require high rate power, Tadiran has developed TLM Military Grade high energy lithium metal oxide cells. TLM Military Grade batteries are constructed with a carbon-based anode, multi metal oxide cathode, organic electrolyte, and shut-down separator for enhanced safety. These batteries feature an open circuit voltage of 4 V with a discharge capacity of 500 mAh (20 mA at 2.8V RT), and are capable of handling 5 A continuous pulses and 15A maximum high current pulses. They also feature low self-discharge, and a extremely wide operating temperature range of -40°C to 85°C.
Tadiran TLM Military series of cells are also extremely safe, as their solvents are non-toxic and non-pressurized and their anode material is less reactive than that found in other lithium cells. The batteries have performed well in a variety of safety tests, including nail penetration, crush tests, high temperature chambers, short circuit and charge tests. Two families – High Power and Medium Power are currently available in three different sizes.
TLM Military Grade batteries comply with MIL-STD 810G specs for vibration, shock, temperature shock, salt fog, altitude, acceleration (50,000 gn) and spinning (30,000 rpm) as well as UN 1642 and IEC 60086 standards for crush, impact, nail penetration, heat, over-charge, and short circuit, and can be shipped as non-hazardous goods.
TLM Military Grade batteries come in a wide variety of cylindrical configurations, and can  be assembled into custom battery packs.