Vishal Sapru, Research Manager – Energy & Power Systems, Frost & Sullivan
Critical power applications demand a highly reliable and cost-effective energy storage technology. A stationary lead acid (SLA) battery offer these benefits and continues to be the battery chemistry of choice for backup power, emergency lighting, utilities, security systems, railway backup systems, oil and gas explorations, renewable energy systems and other applications. A lead acid battery is an energy storage device that has been used for more than a century to protect critical power appliances. Power quality has emerged as a highly discussed topic over the last 10 to 15 years, and is anticipated to remain so going forward, as more applications continue to become increasingly microprocessor-based. With this strong dependency on electronics, the need for power quality is not expected to cease. This has a cyclical effect on the demand for batteries, as they are the powerhouses designed to provide electrical power to the systems.
Competitive Analysis
Competition in this market is extremely fierce, with a mix of global participants and an increasing number of niche regional vendors. Price pressures have intensified since 2005, due to the escalating and volatile price of lead. This has affected profit margins for most tier one vendors. The major end-user segments such as telecommunication and UPS/data communication focus on having the required power for their facilities. Therefore, brand equity plays a key role in this competitive marketplace. Vendors that offer an increased value proposition and a complete suite of support services that is geared toward the critical end-user segments are sure to succeed.
Market participants aggressively try to maintain existing clients as well as venture into new markets to increase revenue profits and maintain company growth. The major competitive challenges include the vendor's capability to meet production capacities or control inventory supply impacted by fluctuating demand in several application markets.
In addition, the ability to keep pace with the capabilities of newer applications will decide the overall revenue growth for lead acid batteries. The lack of product originality has created a more competitive environment for vendors struggling to differentiate their commodity products from those of others. Revenue growth becomes a challenge due to the increased competition from Asia Pacific vendors that can manufacture low-end, low-priced batteries for various applications. The competitive structure of the market is highly diverse due to the varying market stages of each end-user application market.
Market Opportunities
The stationary lead acid battery market has shown steady growth, and is estimated at $4 billion to $4.3 billion in 2010. The two major segments that contribute to its growth (telecom and UPS/data communication) show a steady performance. A steady increase in unit shipments is also expected. Simultaneously, there has also been an increase in price due to lead price volatility, which has been responsible for the revenue growth. The stationary lead acid battery technology is widely used despite several advances in the alternative energy sectors. Hence, the opportunities for lead acid batteries are expected to continue to increase steadily.
The key factors that are likely to drive the growth of the SLA battery market include:
• Proven technology earns end-user loyalty and encourages growth
• Lowest comparable prices driving continued reliance on batteries
• Recovery of telecommunication and data communication industries instills growth
• Next-generation wireless technology expected to prod demand
• Environmental concerns provoke renewed interest in lead acid battery power sources
• Increased requirement for protection of facilities raises demand for lead acid batteries
The key factors that are likely to restrain the growth of the SLA battery market include:
•  Price increase in components minimizes profitability
•  Extremely competitive industry subject to continual price pressure
•  Limited product differentiation
•  Alternative energy chemistries pose growth challenge in the long term
•  More stringent standards and regulations shrink profit margins
•  Decrease in capital spending influences growth
As market maturity intensifies, it can be seen that profit margins tend to decrease, despite consistent sales. Factors attributed to this include depleting resources and increasing lead prices, price volatility due to high competition, increased competitive pressure mounting from niche regional vendors and increased investments in marketing campaigns to promote individual product brands.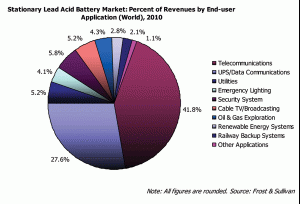 The strong economic growth in the Asian economies has resulted in strong demand in the SLA battery end-user industries. The growth of the data center and telecommunication industries is expected to drive the demand for SLA batteries. The increased foreign direct investment into Asia is expected to facilitate the development of infrastructure and capital equipment. This is expected to increase the demand for power reliability and backup power. This in turn is likely to maintain the demand for SLA batteries going forward.
As pollution levels continue to increase globally, government and local authorities are realizing the impact of these issues and are emphasizing environment preservation. The green technology or green energy movement has impacted battery markets in a positive manner. This movement constitutes a more environmentally-friendly and sustainable technology, and is one of the key strategies to mitigate the negative impacts of pollution. It is desirable that lead acid battery manufacturers practice the recycling of old lead acid batteries because it has an immediate impact on production and operational cost when obtaining manufacturing material. Lead acid batteries utilize 60 to 80 percent of the recycled lead, as the energy used to process recycled lead is lesser than that of primary ore. This protects the environment from the toxic effects of lead and plastics, and satisfies end-user requirements as they are price-sensitive. By being reliant on metals and chemicals, battery manufacturers are constantly pressured by market prices and raw material availability challenges.
Distribution Channel Analysis
The original equipment (OE) market contributed 64 percent of the SLA battery market revenues for 2010. Stationary lead acid batteries are used in coordination with a backup power device such as an inverter or a UPS to provide the necessary backup to the equipment being powered. Lower capacity SLA batteries are used with devices such as emergency lighting and security equipment. The life of a stationary lead acid battery varies based on the application in which it is used and the environment that it is exposed to. This varies from anywhere between two years to a maximum of seven or eight years.
Therefore, the battery cells are replaced at least once during the equipment lifetime, and this is done by the equipment provider. Thus, it becomes an original equipment sale for the battery vendor.
The aftermarket contributed 36 percent of the SLA battery market revenues in 2010. Aftermarket SLA battery sales are lucrative in comparison to the OE sales that are currently predominant in the industry. Batteries form the most critical part of the backup power system of any network, and its importance is also very well understood. As the backup power system is incomplete without the battery, backup equipment manufacturers also realize the importance of the batteries used in the system. Moreover, during the life of the backup energy device, batteries tend to be replaced at least once, and this is a lucrative proposition for equipment vendors.
Battery Construction Type Analysis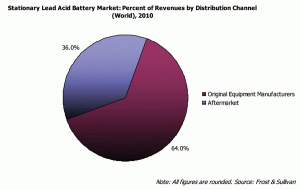 The two different types of lead acid batteries available are flooded and sealed or valve-regulated lead acid (VRLA). The difference is in the construction of the battery and the form in which the electrolyte is available in the battery. Equipment that uses lead acid batteries is generally designed around the battery itself. This includes factors such as mounting, connectors, charging circuits and load components. The necessity for ventilation systems, handling and other maintenance issues is also responsible for the difficulties faced in changing from VRLA to a less expensive but more rugged flooded battery, and this prevents the possibility of switching between VRLA and flooded.
Flooded lead acid batteries are the oldest battery type and are less expensive when compared to the sealed type. A key advantage of using flooded versus sealed/VRLA is battery life. A flooded battery is expected to last between seven and 20 years, depending on maintenance. On the contrary, VRLAs have a shorter life span of three to five years depending on maintenance. Flooded lead acid batteries are expected to decrease their implementation in stationary applications. The inability to store as much energy as VRLA batteries and the tendency to sulfate make this battery unattractive for stationary applications. Similarly, this battery suffers in terms of hydrogen gas leakage and corrosion.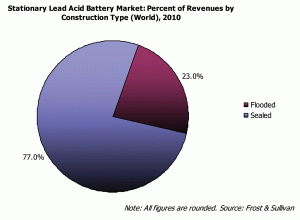 Sealed lead acid batteries are the preferred choice due to their safe handling capabilities. This capability is necessary to ensure product functionality during power outages. Lead acid batteries have seen little technological advancement in the market. Nevertheless, vendors have introduced new products that offer enhancements in the form of longer life and durability.
Some of the advantages that VRLA or sealed batteries offer for stationary applications are as follows:
• Monitoring can be reduced to a large extent, and is limited to charging parameters
• Performance is not affected at lower temperatures
• There is no electrolyte leakage, resulting in safe batteries, which can be operated in any orientation
• The fear of explosion is reduced, as gases are not released in normal operating conditions
• Batteries can be used immediately after charging; no cool-down time is needed
• Very low self-discharge rates
• High resistance to vibration
Conclusions
With the competition among battery vendors becoming global, and the ever-increasing threat to the dominance of SLA batteries by competing chemistries and alternative energy sources, the demands on the vendors are multiple. The SLA battery market has witnessed a series of consolidations since 2000. With increasing competition in the marketplace and the commoditization of batteries, differentiating factors either in the product, the marketing activities, or the support functions are likely to help sustain a profitable, value-driven venture in the SLA battery market. One of the key strategies would be to employ a local strategy toward the manufacture and use of lead acid batteries, and minimize the cost of the batteries by employing less-expensive manufacturing facilities in Asia Pacific countries. In addition, effective marketing strategies to uphold brand equity and brand loyalty should be sustained and increased.
Contact Frost & Sullivan at www.frost.com.
This article was printed in the May/June 2010 issue of Battery Power magazine.