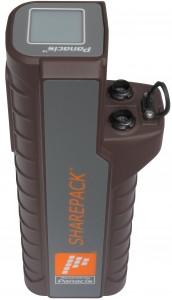 Panacis, Inc. has launched the Energy SharePack, which provides a complete power solution for the dismounted warfighter in a single, smart lithium ion device using universal, bi-directional power ports.
For all militaries, reducing the burden on the dismounted warfighter and providing sufficient energy to power all the warfighter's devices are top priorities for fighting effectiveness, ergonomics and logistics reasons. SharePack is Panacis' solution to addressing all these elements.
SharePack provides flexible energy storage, power management and energy harvesting in a multi-port, 2 lb package that can easily be adapted to a wide range of mission scenarios. SharePack can take energy from anywhere; not a joule need be wasted.
SharePack's multi-function capability improves "efficiency of energy use", which means that the individual warfighter and the squad can carry less spares and use less cabling. Recharging can be performed directly from energy sources in the immediate environment, e.g. solar blankets, military vehicle power, DC generators, and even partially used batteries that would normally be discarded.
The flexibility of the SharePack means that users can manage their own power needs and wear the device(s) where most comfortable.
SharePack comes in two form factors, which fit standard issue military pouch sizes to allow use of existing load carriage equipment. An LCD provides detailed information about the system such as state of charge, time to empty and mode of operation (charging, discharging, scavenging).