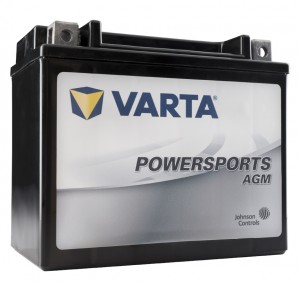 Johnson Controls is launching its VARTA AGM powersports battery line in North America. The line-up of powersports batteries are made for active enthusiasts who expect the highest level of performance and durability. VARTA powersports batteries will offer 16 different group sizes covering more than 90 percent of powersports applications including motorcycles, ATVs, snowmobiles, UTVs, scooters and personal watercraft.
All VARTA powersports batteries will be fully charged just prior to shipping. This "freshly charged" approach will offer distributors, dealers and end users the same ready-to-install convenience North America has experienced with automotive batteries for many years.
VARTA AGM powersports batteries, with AGM technology, are engineered to provide longer life and improve the performance of the battery. VARTA AGM batteries last longer in demanding applications, are maintenance-free, nonspillable and can be installed at any angle. Each VARTA powersports battery features an established grid design for improved durability, has a rugged case construction, can withstand repeated charging and discharging, and is high performing in a wide range of temperature conditions.