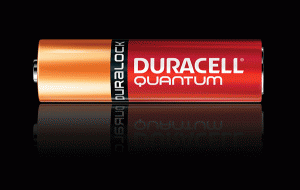 Duracell has launched of Duracell Quantum, an advanced alkaline battery. With its Hi-Density Core and proprietary PowerCheck power indicator, the distinctively red and copper Duracell Quantum has been engineered to deliver the performance consumers demand.
"Duracell Quantum was engineered from the ground up to offer consumers a premium alkaline battery," said Volker Kuhn, general manager for Duracell North America. "For the first time in 50 years, we're changing the color to red and copper to symbolize the quantum leap in power for Duracell."
The Duracell Quantum offers long-lasting power when it's needed the most, whether it's powering children's toys and baby monitors or radios and flashlights during storm preparation. Optimizing household power is now easier with the Duracell Quantum's ability to efficiently work across all devices, from high-drain (e.g. camera flash or gaming controls) to low-drain (remote controls or clocks).
Duracell Quantum has a power indicator on the cell, as well as Duralock Power Preserve technology, which preserves power for up to 10 years in storage. It is available now in AA and AAA cell sizes.