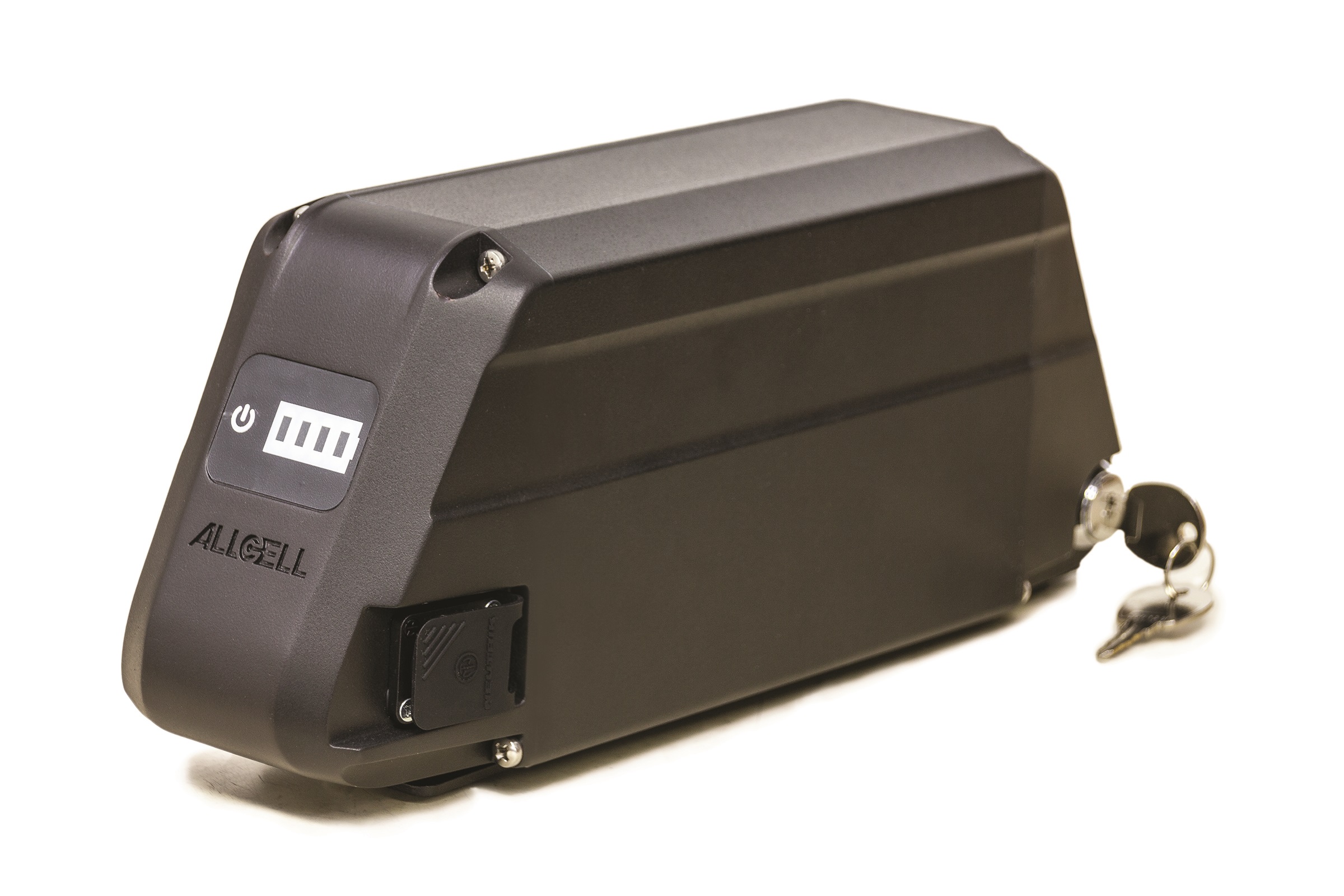 AllCell Technologies has launched the company's Summit line of lithium-ion e-bike batteries.  Unlike other premium batteries that are only available through the purchase of a complete drive train system, the Summit battery is available for purchase as a stand-alone product, expanding options for OEMs, retailers and consumers.  Thanks to a variety of voltage and capacity options and the down-tube mounting location, the Summit provides maximum flexibility to support front hub, mid-drive, and rear hub motors across a wide range of power and drive-range requirements.
An advanced proprietary battery management system (BMS) provides the Summit with CANbus communication capabilities to support state-of-the-art functionality and protection, including programmable operation and configurable communication parameters.  The removable battery includes an easy-to-install two-screw mounting rail and standard connectors (Rosenberger and XLR), making it well suited for most motor brands, conversions and replacements.  With both 36 and 48 volt versions and capacity options of up to 17 Ah, the Summit meets the most demanding performance requirements in Europe and North America.
Like every AllCell product, the Summit is protected by AllCell's proprietary thermal management material.  Effective thermal management for e-bikes is becoming more important as the industry moves towards larger batteries while simultaneously packing more energy and power into each lithium-ion cell.  The combination of using higher power cells and packing them into larger batteries is a recipe for reduced battery life and a higher incidence of thermal runaway and battery fires.  AllCell's phase change material (PCM) effectively reduces battery temperatures and prevents battery fires, providing a solution to the increasing need for thermal management in the industry.
The Summit™ is available for pre-ordering now and slated for initial deliveries in Q1 of 2014.  While the battery is available as a stand-alone product, AllCell is also partnering with motor manufacturers to offer fully integrated drive train systems for customers who prefer to buy a complete system.  Swedish motor manufacturer Hӧganäs is the first motor partner, with additional announcements coming soon.