Brendan Jones, Director of EV Charging Infrastructure Strategy and Deployment
Nissan
The concept of zero-emissions mobility has been around for more than a century, when electric vehicles (EVs) outsold gas-powered cars. About 33,000 EVs are on the roads in the US, but the perception that EVs aren't for everyone still exists. Recent data from the US Department of Energy shows that the adoption curve for EVs is actually accelerating at a faster pace than that of hybrid vehicles.
EVs: Then and Now
The first EV hit the ground in the 1830s when Thomas Davenport invented the direct-current electric motor and put it in a model car, but EVs didn't find their stride until the late 1800s and early 1900s when William Morrison built a six-passenger electric car that could go up to 14 miles per hour. In that same decade, hundreds of electric taxis were roaming the New York City streets.
At that time, EVs dominated over gas-powered cars, 38 percent of the cars on the road were electric while only 22 percent were powered by gas; the other 40 percent were steam-powered. EVs had quite a few advantages over their gas-powered counterparts in that they didn't have the vibration, smell or noise, and they did not require gear changes or the manual hand-crank start, which were considered the more difficult and much less attractive aspects of driving.
That all changed as the US highway system was developed in the mid-1900s and gas-powered cars gained popularity because of their ability to drive faster and travel longer distances.
It wasn't until the energy crises of the 1970s that a renewed interest in EVs was sparked. In 1970, the Federal Clean Car Inventive Program was initiated to encourage automakers to develop low-emission vehicles. Through this program, a prototype vehicle was developed by Petro Electric Motors, Ltd., by using an internal combustion engine/battery hybrid system in a 1972 Buick Skylark. Other companies and independent manufacturers also got into the EV game with cars such as General Electric's GE-100, the Electric Test Vehicle-1 and the ETX-1, the Sebring Vanguard CitiCar and the Elcar 2000.
EVs were in the limelight again in the 1990s with the introduction of the California Air Resources Board (CARB) Zero-Emission Vehicle (ZEV) program, which mandated that two percent of the vehicles produced by large manufacturers for sale in California had to be ZEVs, a number that would increase to 10 percent by 2003. In response, several automakers produced all-electric models such as the Toyota RAV4 EV, Honda EV Plus and the more widely known GM EV1, but most of these were only made available to consumers for lease with no option to buy. In the early 2000s, the majority of those cars were returned to manufacturers to be destroyed.
That brings us to the past decade, which marks the most significant period for EVs since their success in the early 20th century. In the past few years, new models have been popping up in more product portfolios of both large and small automakers including the Tesla Model S, Mitsubishi i MiEV and the Nissan LEAF. GM also released the Volt that, while it is a plug-in hybrid electric vehicle, embodies many of the technologies pioneered by the EV1 about 20 years earlier.
Infrastructure: Change Takes Time
With EV sales continuing to climb, the conversation is shifting from, "Are EVs a viable transportation option for the mass market?" to, "How are EV drivers going to get enough juice to get them where they need to go?"
In the first half of the 20th century, internal combustion (ICE) vehicles faced a similar hurdle during their rise because at the time, roads weren't more than dirt pathways and gas stations were few and far between.
The catalyst for the growing popularity of ICE vehicles was the development of more sophisticated roads and highways, which started in the late 1930s. During the Franklin D. Roosevelt era, the need for interconnected roads and highways was evaluated and the interstate system was born. The project continued well into the Eisenhower administration, when a modern interstate system became a priority.
As construction of the interstate progressed and it became easier to make longer trips, the need for distance-capable cars grew and the demand for gas stations followed suit. Between then and now, the number of retail gas stations in the US rose to more than 157,000 (as of 2011).
Since the resurgence of EVs, a similar demand for a robust public charging infrastructure is rising. The two most notable differences between then and now, besides the fuel source: the available technology that enables drivers to easily search for charging stations from their smartphones or from the navigation systems in their cars, and the convenience of being able to charge at home.
Nearly 80 percent of LEAF drivers use these to fuel up during the night. With a 240 V charging unit installed at home, LEAF owners can fully charge their cars from empty in less than eight hours, and those who drive a 2013 LEAF with the 6.6 kWh onboard charger can fully charge in about four hours. Nissan LEAF drivers also enjoy the convenience of being able to monitor charging status, set climate control and remotely start the car using a smartphone.
What Nissan is Doing to Change the Landscape
The number of public and private charging units in recent years has grown significantly with more than 18,500 public and private charging stations across the US today, but more development is still needed.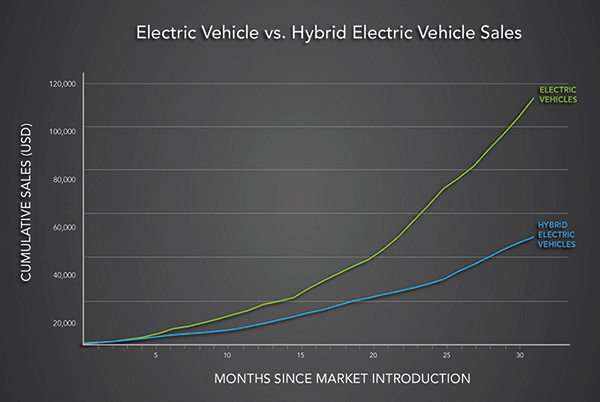 To help further build range confidence, automakers are teaming up with a variety of charging companies to further bolster the EV charging infrastructure. For example, Nissan announced its strategy in January to triple the number of quick chargers in the US by mid-2014.
A 50 kW quick charger can charge a Nissan LEAF battery up to 80 percent from empty within about 30 minutes. With the vision of a quick-charging network that links neighborhoods where people live, work, shop and socialize, Nissan's  newly formed EV Infrastructure Strategy and Deployment team is using a three-pronged approach to enhance charging infrastructure through its dealer network, workplace campus charging options and opportunities within communities.
Accelerating the expansion of EV charging, Nissan supported the recent installation of more than 100 quick chargers at LEAF-certified Nissan dealers in 21 key markets nationwide. This initiative came on the heels of a 24-dealer pilot program that rolled out at dealerships in San Francisco, Los Angeles, San Diego, Sacramento and Seattle.
In addition to increasing charging opportunities through its dealers, Nissan also aims to make charging available in more workplaces. When businesses offer workplace charging as a benefit, employees can enjoy end-to-end charging meaning the car's battery is fully charged when the driver leaves home, and it's fully charged when that person leaves work.
More and more businesses are installing charging units on their properties, including Google, Microsoft, Facebook, HP, Delta, Texas Instruments and more.
Nissan has also worked with Evernote to offer a unique program to employees. Evernote also offers employees a $250 allowance to lease or buy any vehicle that qualifies for a carpool lane sticker, a benefit that more than pays for the lease on a Nissan LEAF and equates to shorter commute times. Also, in early 2013 Evernote installed 10 Level 2 chargers and one quick charger to accommodate employees who want to plug in while at work.
With the ability to charge and home and at work, driving electric beats having to stop at a gas station in mid-commute. Adding chargers in areas where drivers spend the bulk of their time builds additional range confidence and interconnects communities so that EV drivers are able to charge while shopping and dining in areas outside of their own respective neighborhoods.
Nissan has coordinated with a variety of charging partners including NRG eVgo, ECOtality, ChargePoint, AeroVironment and CarCharging Group to install more than 300 quick chargers across the United States since early 2013.
While having more EVs on the road certainly drives demand for a stronger charging infrastructure, having more available chargers builds range confidence and generates more interest in driving electric, which eventually translates into more EVs on the road. And having more EVs on the road helps accelerate technology advancements for future cars.
For more information, please visit www.nissanusa.com.