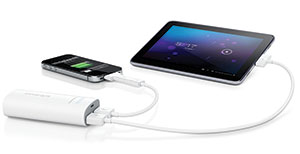 Innergie has introduced the PocketCell Duo rechargeable battery bank. With 6,800 mAh battery capacity and dual ultra-fast 2.1 amp USB power ports, the PocketCell Duo can fast charge two devices at the same time, delivering portable power when battery power is exhausted or typical power sources are not accessible. The PocketCell Duo is certified for use with iPads, iPhones and iPods, and works with Android tablets and smartphones.
One of  the smallest (3.75 inches by 1.75 inches by 1 inch) and  lightest (a 4.7 ounces) rechargeable battery bank in its class, the PocketCell Duo features a compact design and includes a single cable that connects to more than 10,000 different devices.
The PocketCell Duo incorporates a power / charging activation button with five LED power level indicators, and 6,800 mAh power capacity capable of fully charging a tablet once or a smartphone four times on a single charge. PocketCell Duo is also capable of extending power for a tablet up to seven hours or a smartphone up to 30 hours.