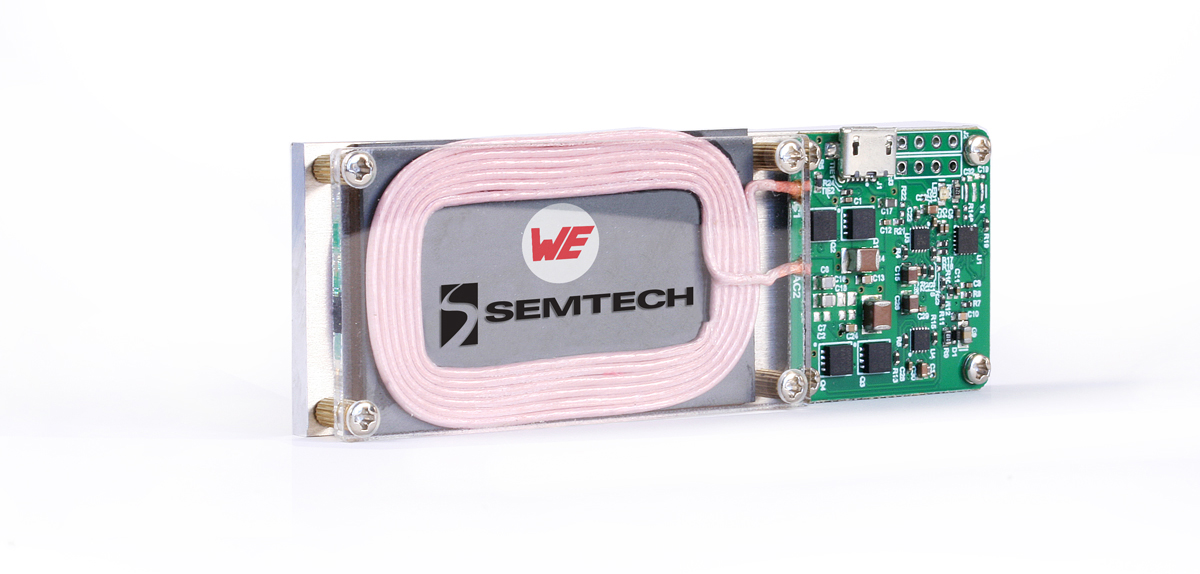 November 2, 2017 | Product Brief | Würth Elektronik eiSos, a manufacturer of electronic and electromechanical components, has announced its collaboration with Semtech Corp. by integrating its transmission coil, WE-WPCC, with Semtech's LinkCharge LP (low power) platform, an innovative wireless charging solution that concurrently charges multiple, low-power devices using a single transmitter.
The WE-WPCC series transmission coil excels with its NiZn ferrite shielding to protect sensitive electronics and concentrate the magnetic field. The coil is specially designed for resonant inductive coupling and allows several receivers to be used at the same time. Semtech's LinkCharge LP (TSWITX-5V-2RX-EVM), featuring Würth's transmission coil, provides positioning, and spatial freedom that allows for charging of multiple devices. The platform delivers one-watt of output power to charging devices and specifically targets low-power applications including hearing aids, activity trackers, smart headphones, smart jewelry and clothing, low power industrial, portable medical equipment, and LED fixtures.
"Semtech's LinkCharge LP platform was designed to enhance the overall user experience by allowing people to charge multiple devices at once without the hassle of cables," said Ruwanga Dassanayake, Power Management Product Line Manager for Semtech's Power and High-Reliability Products Group. "Würth Elektronik's WE-WPCC transmission coil is a key component of LinkCharge LP and makes it possible for our solution to give our customers a unique experience."
The windings of the WE-WPCC coil consist of high frequency stranded wire with high permeability shielding. The coil also scores a far lower resistance and higher Q factor than all those comparable products previously on the market. WE-WPCC 760 308 102 308 for resonance solutions is available from stock, with a design kit and free sample service likewise.