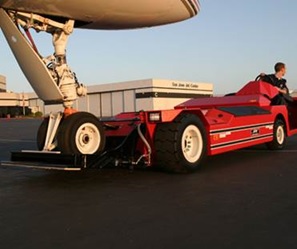 Trojan Battery Co., LLC has entered the airport ground support vehicle market by supplying its deep-cycle batteries to LEKTRO Inc., an electric towbarless tug manufacturer.
Trojan's L16, 6-volt batteries power selected models of LEKTRO's AP86, AP86X, AP87 and 87X series of towbarless, aircraft tugs.  Trojan also provides a custom designed L16, 6-volt battery featuring a 4-volt tap to provide a true 28-volt ground power unit (GPU) capability for LEKTRO equipment. The 4-volt tap enables LEKTRO equipment to effectively service aircraft that could be otherwise harmed by potential overcharging.
In addition, LEKTRO uses Trojan DC500ML 12-volt batteries in its AP8800 and AP8800-EZ models, as well as, Trojan's T105 batteries in its AP83 series tugs.
Trojan's deep-cycle flooded batteries feature T2 Technology for sustained capacity and total overall ampere-hours, resulting in more operating power.  T2 Technology features Alpha Plus Paste, a proprietary, high-density paste formulation precisely engineered to maximize performance of Trojan's flooded deep-cycle batteries.  Combined with Trojan's  grid technology and Maxguard T2 Separator, the L16 is optimized to provide improved battery performance, with reduced downtime and lower overall maintenance costs.