While existing battery technologies such as lead acid and lithium-ion batteries will dominate the battery market in the following 10 years, advanced and post lithium-ion batteries given the right conditions can potentially take a considerable dent of about 10 percent of whole battery market by 2026. This is mostly because some of them are already in use in niche segments that will present high growth in the following 10 years. Indeed advanced and post lithium-ion battery technologies can reach a market value of $14 billion in 2026. These forecasts and detailed analysis is found in the brand new IDTechEx Research report "Advanced and Post Lithium-ion Batteries 2016-2026: Technologies, Markets, Forecasts".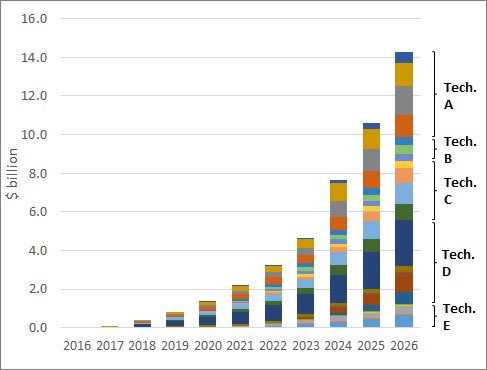 One interesting point in the development of these technologies is that they are not targeting the established end-use markets as entry point, such as automotive, but emerging niche markets. Indeed whilst automotive remains one of the main markets for battery technologies, 2015 is seeing the emergence and consolidation of alternative niche markets in which new battery technologies can find spaces for development without being exposed to fierce competition from incumbent companies and their technologies. These niche segments are allowing these emerging technologies to mature and the incumbent companies to reach the scale and the security of supply that the automotive industry and consumer electronics require.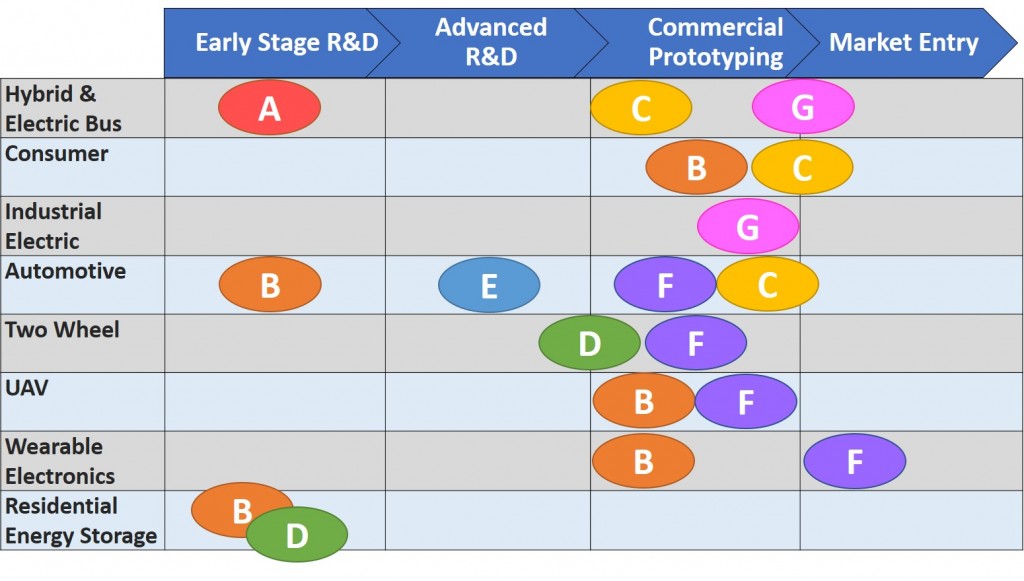 A new generation of battery technologies will be necessary in order to address the existing and future challenges of the increasingly complex energy systems our society will require. Better batteries will be needed not only in electric cars and consumer electronics but in emerging segments such as wearable electronics, electric boats and aircraft, in your house, office and communities.
This new generation of technologies has been referred to as "advanced and post lithium-ion batteries". These technologies include silicon anode batteries, lithium sulphur batteries, sodium ion batteries, magnesium batteries, lithium air batteries, solid state batteries and lithium capacitors. Some of these technologies are not really new, however there are reasons why they have received more attention recently. This is reflected in the increased number of related publications in the last 10 years.
Lithium-ion is the best battery technology we have ever seen. It has increased energy density by 5 percent per year and decreased its cost at 8 percent per year. However it will not achieve transformative factors of five in cost and performance and this is just because of the inherent material limitations.
From an industry perspective the lithium-ion manufacturing industry is already highly concentrated among five Asian producers, and further consolidation will increase margin pressures on component suppliers.
In the aftermath of the Great Recession, companies are looking to capture new sources of growth so there is a new cycle of investments in new technology battery start-ups.
Environmental regulation on transport is converging in many parts of the world, but electric vehicle deployment has been hampered by the low performance of existing battery technologies in order to accomplish comparable driving ranges in electric vehicles in relation to its incumbent petrol counterparts. Nevertheless it is often overlooked that electrification is happening not only in cars but off road transport, marine vessels and other non-traditional machines such as construction, mining and agricultural vehicles. At the same time new personal electric vehicles such as e-bikes and electric motorcycles are consolidating their place as mobility and leisure alternatives.
In the last five years new electronic devices such as smartphones and tablets have changed the way we live and interact. So pervasive has been their penetration that we now can hardly imagine our daily lives without these devices. However we are not fully satisfied with them, it is deeply disappointing how their batteries lifetime limit our connection to the world. On the other hand emerging electronic devices such as wearable electronics will not reach their full potential and penetrate the market with existing battery technologies. New batteries will need to be smaller and hold more energy.
Advanced and Post Lithium-ion Batteries 2016-2026: Technologies, Markets, Forecasts focuses on advanced and post lithium-ion battery technologies: silicon anode batteries, solid state batteries, sulphur batteries, lithium air batteries, sodium-ion batteries and magnesium batteries. A performance benchmark is presented based on practical results achieved so far from different organisations from start-ups, established companies and research organisations. We analyse challenges and commercial strategies by the companies developing them and provide a 10 year market forecast for 2016-2026. The report includes company profiles of the key companies involved in the development and commercialisation of these technologies. Our coverage is global, including activities from the US to Asia.