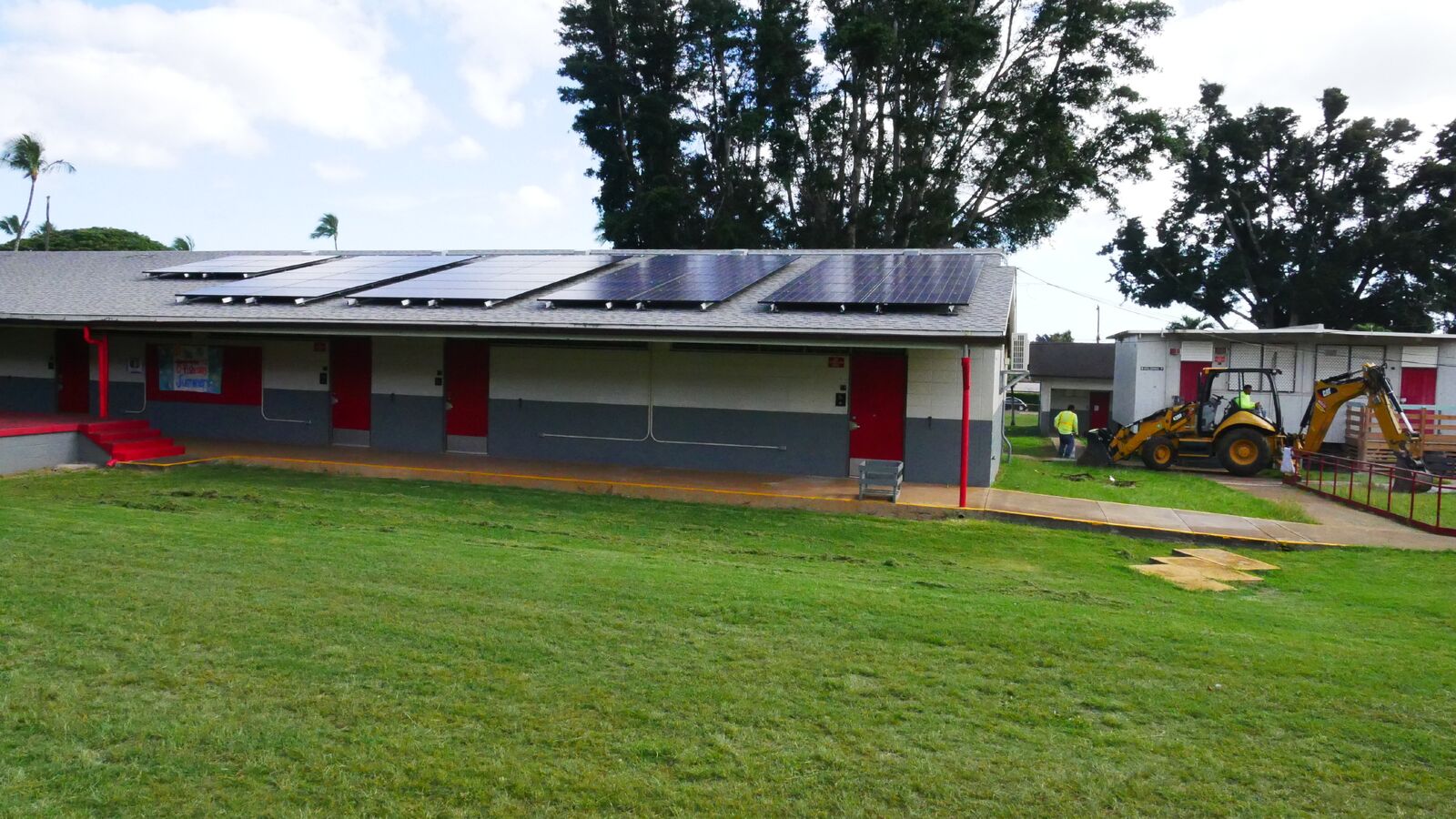 August 29, 2017 | News Brief | Students at Hawaii's Waialua High and Intermediate on the island of O'ahu are returning to school this year to solar PV and energy storage-powered air conditioned classrooms from project partners SimpliPhi Power, Ameresco Solar, and Haleakala Solar. As part of the statewide Heat Abatement Program, schools can receive hybrid solar air conditioning units and implement other cooling strategies to bring relief to students currently enduring sweltering educational environments that can reach up to 100°F and make learning a challenge. The solution of classroom AC powered by solar and energy storage helps to control energy costs for schools, which until now has been a major barrier to adding AC to classrooms.
"Bringing sustainable cooling relief to students in Hawaii was a problem we knew required innovation on several levels, including how to manage the up front and long-term costs of these systems and how to work with the limited electrical infrastructure on these campuses," said Richard Dean, senior account executive for Ameresco Solar, an independent provider of comprehensive energy efficiency and renewable energy solutions. "We designed a modular cabinet and energy production system housing power generation and storage technologies to be located right next to the electrical load, with one to two classrooms running off one cabinet. This is a major cost advantage over a centralized system, as is the power system's ability to expand as future energy needs change. Using non-toxic SimpliPhi energy storage is essential as we can simply add more batteries in the system without duplicating other aspects, unlike with the other storage options available on the market."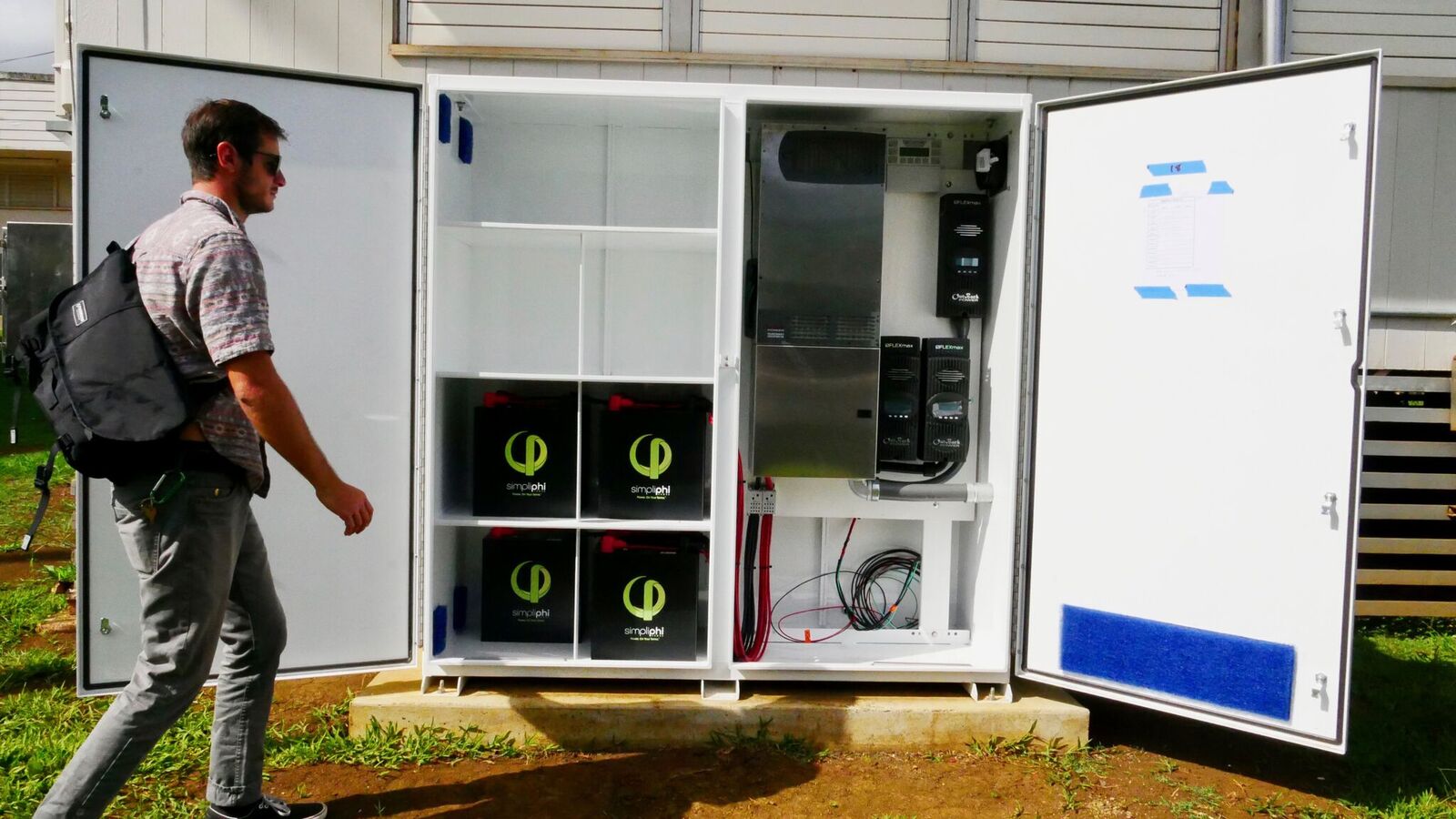 Each cabinet is built to house seven or ten SimpliPhi PHI 3.4 kWh batteries as part of a hybrid, solar powered off-grid system for two or four ton air conditioners, respectively. Ameresco designed the systems to hold up to 16 batteries to streamline future expansion.
"With solar saturation on Hawaii's electrical grid, integrating energy storage is essential to getting these systems online faster for these students in need," said Jim Whitcomb, founder of Haleakala Solar, a major solar integrator in Hawaii with over 14,000 solar systems installed on the Islands.
"Our decades of experience have shown us that not all batteries are created equal. Indoor real estate at these schools to house batteries is next-to-none, so we absolutely needed a battery that is proven to be reliable and safe from fire when installed outdoors in the full Hawaiian sun – without the hassle of adding separate AC or cooling mitigation. The SimpliPhi batteries surpass all these requirements and more."
SimpliPhi CEO Catherine Von Burg added, "Our batteries are deployed in some of the harshest environments on the planet, such as the rugged front lines with the Department of Defense, and we have a zero failure rate due to overheating, thermal runaway and fires. This is even more critical when we are talking about systems that are installed within five feet of the closest student. Safety is paramount and should not be negotiable for anyone; especially our children."
In addition to this first project to be installed in Waialua, the companies have another 1.4 MWh of SimpliPhi storage lined up for school AC projects across Hawaii.