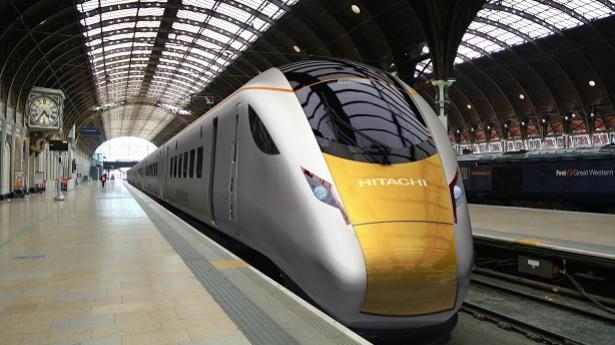 Saft has been awarded a multi-million dollar, five-year, framework contract by Hitachi Rail Europe to supply turnkey, fully integrated battery systems to provide vital backup power for passenger safety and comfort systems on the new Class 800 series trains destined for the UK's Great Western Main Line and East Coast Main Line services. The contract, which is one of Saft's largest agreements in the UK rail industry, covers the supply of MSX battery systems for up to 122 Hitachi Class 800 and Class 801 train sets.
As part of the Intercity Express Program, Hitachi is replacing the UK's 40-year-old InterCity 125 high speed diesel-powered fleets with new electric and bi-mode trains that represent an important step-change in train travel in the UK. In addition to greater capacity and reduced environmental impact, the Class 800 series trains place a key focus on achieving exceptional reliability.
Saft engineers worked in close cooperation with Hitachi to develop the optimum onboard battery system to support passenger safety and comfort functions on the Class 800 series trains, such as lighting, ventilation, door opening and communications, for up to three hours in the event of an interruption to the main power supply. A key requirement was to ensure total reliability and power continuity over a 15-year service life, even in the harsh winter conditions encountered on the train routes in North Scotland.
The result is a compact turnkey 'plug and play' battery raft, designed for mounting under the train floor, and featuring MSX batteries that deliver high power and cycling performance over a wide range of operating temperatures, from -30°C to 50°C. Every Class 800 and 801 train set will be fitted with at least two Saft battery systems, but some will have three or even four systems depending on their operational mode.
The first confirmed call-off from the framework agreement is for 135 battery systems for installation on Great Western Main Line trains. Saft will deliver the majority of them to Hitachi's new Newton Aycliffe factory in northeast England. However, an initial batch of 28 will be supplied to Hitachi in Japan for the pre-series test program that commences in 2014.