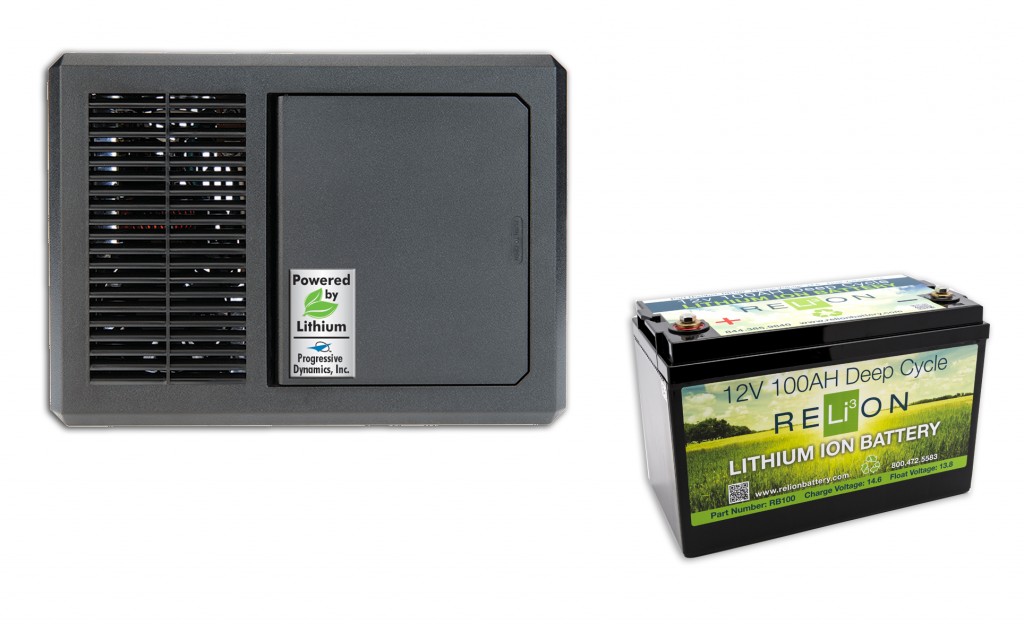 Progressive Dynamics, Inc. has designed PD4060LIK all-in-one lithium-ion battery converter/chargers to meet the stringent voltages required for properly charging and maintaining lithium batteries.  Lithium-ion batteries require special balancing circuits and chargers to prevent overcharging or discharging a cell beyond its specifications.  These converter/chargers are designed for lithium-ion batteries that typically store twice the energy of a lead/acid battery within the same space, with less weight.
Now with the help of Forest River, Inc. and the results of their tests, a comparison is available on lithium batteries versus lead acid batteries.  Forest River used a single RELiON RB100 lithium-ion deep cycle 100 Ah battery as a comparison with two dual lead acid 100 Ah batteries commonly used in their RVs.  They applied actual electrical loads and simulated higher amp loads like those found in RVs.  As a result of this test Forest River has chosen to install the PD4060LIK converter/charger and the RELiON RB100 lithium battery in their New Forester/Sunseeker Ford Transit series.  There were multiple advantages found for the lithium battery over lead acid batteries, including longer life, no freezing in extreme temperatures, lighter battery weight, ability to mount in any direction, no maintenance required, 95 percent energy efficient, no corrosion, lead free and does not require a fully charged condition for storage.  Lithium batteries also offer faster charging times, charging to 99 percent in 2.5 hours versus up 13 hours for lead acid batteries.
This test showed that the lithium battery performed well compared to the lead acid batteries.  Though the initial cost is high for lithium batteries, there are no secondary maintenance costs required for the life of the battery.  The lithium batteries have an average life span of 10 times that of lead acid.
Progressive Dynamics provides products for RV, marine and the specialty vehicle industries which are designed, assembled, tested, warranted and serviced in the U.S.A.  RELiON lithium batteries are sold worldwide and are a distributor of Progressive Dynamics Lithium Battery Chargers, and other PDI chargers.  Forest River, Inc. offers a variety of RVs including travel trailers, fifth wheels, destination trailers, hybrid campers, pop up campers, toy haulers and motorhomes.  It also includes other divisions within the marine, housing, bus and commercial products industries.