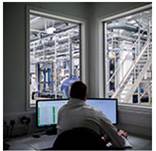 January 3, 2018 | News Brief | Nexeon, a company developing silicon materials for next generation Li-ion batteries, and its partners have been awarded £7 million in Innovate UK funding for a project to develop significantly better materials for Li-ion batteries. The work is an essential step to achieving electric vehicles (EVs) with a range of 400 miles and above. The project, named SUNRISE, will develop better battery materials based on silicon as a replacement for carbon in the cell anode, and optimize cell designs for automotive application.
Nexeon will lead the silicon material development and scale-up stages of the SUNRISE project, while leading polymer company Synthomer will lead the development of a next generation polymer binder optimized to work with silicon, and ensure anode/binder cohesion during a lifetime of charges. Nexeon and University College London (UCL) will jointly lead the work on material characterization and cell performance.
Silicon is currently being adopted as a partial replacement for carbon in battery anodes, typically up to the level of 10 percent replacement, but problems caused by expansion when the cells are charged and discharged remain a hurdle. Project SUNRISE addresses the silicon expansion and binder system issues, and allows more silicon to be used, further increasing the energy density that can be achieved in the cell. Innovative silicon anode material with a polymer binder represents a 'drop-in' replacement for current graphite anode systems. Lower cost and better performance power sources will reduce the time required for EVs to achieve mass adoption.
"The biggest problems facing EVs, range anxiety, cost, charge time, or charging station availability, are almost all related to limitations of the batteries," said Nexeon CEO, Dr. Scott Brown. "Silicon anodes are now well established on the technology road maps of major automotive OEMs and cell makers, and Nexeon has received support from UK and global OEMs, several of whom will be involved in this project as it develops."
Dr. Paul Shearing, Reader in Chemical Engineering at UCL said, "We are delighted to be working on this project, which is so important for the future development of battery electric vehicles, and leverages the unique facilities at UCL in partnership with Nexeon and Synthomer to deliver real world research impact."
The Faraday Battery Challenge was announced in July, and is the first in a series of Research Challenges managed by Innovate UK as part of the Industrial Strategy Challenge Fund (ISCF). The Faraday Battery Challenge is an investment of £246 million over four years to help UK businesses seize the opportunities presented by the transition to a low carbon economy, to ensure the UK leads the world in the design, development and manufacture of batteries for electric vehicles. Success in creating a viable battery supply chain will lead to the creation of hundreds of UK jobs, according to Innovate UK.