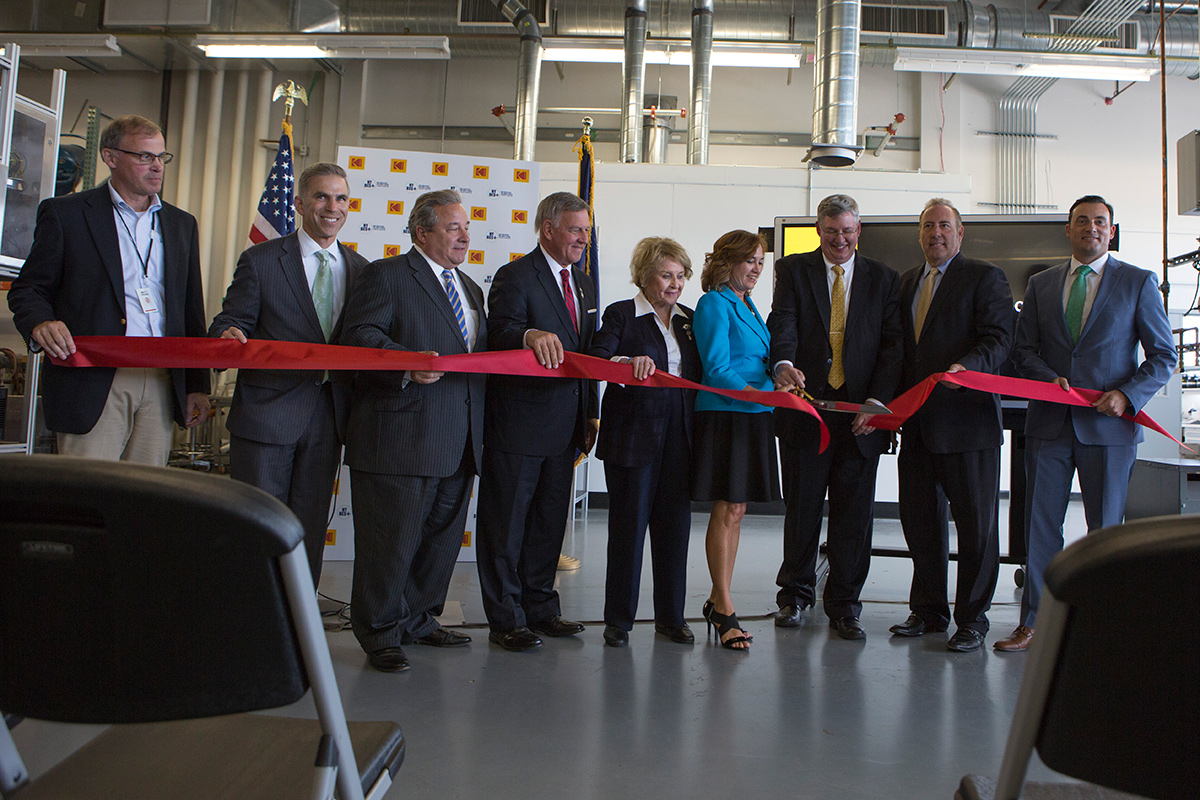 September 5, 2017 | News Brief | Officials from Eastman Kodak Company, along with local and state representatives, celebrated the grand opening of the new Kodak Cell Assembly Center at Eastman Business Park. The Kodak Cell Assembly Center, created in partnership with the New York Battery and Energy Storage Technology Consortium (NY-BEST), stands to streamline the product development and manufacturing process for advanced batteries and energy storage devices.
While the Kodak Cell Assembly Center on its own is a valuable addition to the state's energy storage landscape, its place in the big picture of energy storage could be transformative. The Center completes an ecosystem of three core processes for energy storage manufacturing, providing coating, assembly and testing all in one location. The facility allows design and development from small to large scales, eliminating cost-heavy hurdles that slow and sometimes shut down promising technology.
"Opening the Kodak Cell Assembly Center will improve the success rate of energy storage companies," president of Eastman Business Park and Corporate Real Estate Dolores Kruchten said. "The cooperative relationship we have built for energy storage with Kodak Coating Services, the new Kodak Cell Assembly Center, and DNV-GL and NY-BEST with the BEST Test and Commercialization Center is a game-changer for development and innovation. We make it possible to do coating, assembly and testing all in one location for the first time."
The Center includes two multi-user battery cell assembly lines to provide pilot manufacturing services to battery and energy storage companies. The effort complements electrode development and product capabilities and expertise at Kodak Coating Services, as well as at NY-BEST's Test and Commercialization Center, a battery cell commercialization and testing center located in the same building as EBP, and the Battery Prototyping Center, located nearby at Rochester Institute of Technology. Kodak, NY-BEST and RIT work collaboratively to provide the tools and resources necessary for companies to develop, test and commercialize new batteries, ultracapacitors and energy storage products.
The energy storage industry is growing rapidly in New York State. In January 2017, the New York State Energy Research and Development Authority (NYSERDA) announced 30 percent job growth in New York's energy storage industry over four years, bringing employment in the industry to 3,900. The state's energy storage industry's annual global revenues grew 50 percent to $906 million between 2012 and 2015. According to NYSERDA, by 2030, the energy storage industry could realize annual global revenues between $5.6 billion and $8.7 billion, with total job growth between 17,300 and 26,800 employees.
"The energy storage industry is growing exponentially and the new Kodak Cell Assembly Center, when combined with New York's existing state-of-the-art facilities for battery development, prototyping and commercialization, will further strengthen New York's ability to attract and grow energy storage companies in New York," NY-BEST executive director William Acker said.
Empire State Development is supporting the partnership through a $1.2 million Finger Lakes Forward Upstate Revitalization Initiative grant. The total cost for the innovative, collaborative endeavor is $5.9 million.