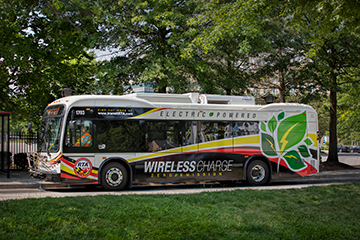 July 5, 2017 | News Brief | Zero emission electrified bus transportation is coming to Howard County with the advent of fully electric buses powered by wireless charging technology from Momentum Dynamics Corp. This project is the result of a cooperative effort between Howard County, MD, Regional Transportation Agency of Central Maryland (RTA), Maryland Transit Administration (MTA), BYD North America, Center for Transportation and the Environment (CTE) and GGP.
The project team has recently completed the installation of a state-of-the art inductive charging system at The Mall in Columbia, one of America's largest and most successful planned communities. Three new electric buses will be wirelessly charged when they make routine stops at the Mall. The Mall is a portfolio property of GGP, an S&P 500 company that owns, manages, leases and redevelops high-quality retail properties throughout the United States.
The Momentum charger operates at efficiencies that exceed many conductive chargers, and does not require a chilling system, nor the regular expensive maintenance of an overhead charging system. Perhaps most importantly, the system is less expensive to install and operate.
The Federal Department of Transportation (DOT) provided funding through the Maryland Transportation Administration (MTA) to Howard County. The funding supported the purchase of three 35-foot (32-seat) electric buses from BYD Coach and Bus, as well as the inductive charging equipment from Momentum Dynamics. BYD Coach and Bus is a leading manufacturer of electric buses based in Lancaster, CA. Momentum is a leading technology provider of wireless charging technology for electric vehicles, and is based in Pennsylvania.
Momentum Dynamics has developed a 200-kilowatt (kW) wireless charging system for the municipal transit market. The Howard County 50 kW system includes a transmitter installed in the pavement and a receiver installed on the underside of the bus. Momentum's unique technology automatically charges the bus' batteries while the bus is parked over the transmitter.
According to Momentum's CEO Andy Daga, "We are extremely excited about this project and look forward to working with Howard County and RTA for many years to come. This project will demonstrate the benefit of fast automatic charging along bus routes. We've learned that many people think that wireless charging is years away, and inherently inefficient. In fact, wireless charging is available today, and it can be more efficient than comparable conductive chargers."
Wireless charging is a relatively new technology that provides for autonomous fueling of electric vehicles. One of the most important advantages of wireless charging is the ability to extend a vehicle's driving range.
Mark Pritchard, General Manager of RTA commented "From an operating standpoint, it is a tremendous opportunity for our bus operators and maintenance technician staff to learn firsthand about the differences between electric battery powered vehicles compared to conventional technology. The initial feedback from bus operator testing to date is very positive about both how quiet and smoothly the vehicles operate. Maintenance staff are pleased with the simplicity and lack of complexity compared to internal combustion engines."
BYD is a leader in the implementation of wireless charging and the world's largest manufacturer of electric vehicles. Local, state and federal agencies have recognized that autonomous wireless charging will accelerate the adoption of all types of electrified vehicles. Electric buses and automatic wireless charging support the objectives of legislation and regulations that are aimed at the reduction of vehicle-generated air pollution and carbon emissions.
CTE, as project manager and technical consultant to Howard County, manages the day-to-day activity of the project team, and has provided third-party technical analysis, modeling, and simulation, throughout the life of the project. CTE is a member-based, non-profit organization dedicated to the advancement of clean, sustainable, innovative transportation, and energy technologies. As a non-governmental organization, it works to support its members in association with partnerships with federal agencies, including the FTA and DOE, as well as transit agencies throughout the U.S.
Upon deployment, CTE will collect operations and maintenance data over a two-year reporting period. The data will be used to generate a series of key performance indicators (KPIs), which will provide Howard County, FTA, and the industry with information regarding the overall impact of the wirelessly charged electric buses.