September 14, 2017 | News Brief |  Inventus Power, a systems manufacturer of battery packs, chargers and power supplies for the consumer, commercial/industrial, medical and military markets, has announced plans to open a new Tijuana-based manufacturing facility in early 2018, and is actively recruiting several hundred employees in multiple manufacturing roles for that location.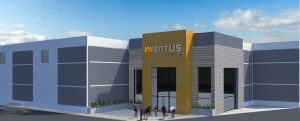 "This is an exciting time for Inventus Power as we continue to evolve to best support our customers in producing world-class portable, motive and stationary power solutions across a broad range of markets and applications," said Derek Kane, vice president Americas Operations. "This facility serves as a strong catalyst for the Inventus Power culture and identity, and uniquely aligns us to accommodate our customers' needs, especially with the ever-changing climate on battery shipment regulations."
The new-construction facility effectively doubles the size of the company's existing Tijuana-based location. It will feature approximately 100,000 ft² of manufacturing space, with the capacity to further expand the footprint to another 80,000 ft² of additional manufacturing area to accommodate customers' growth, making this facility one of the industry's largest manufacturing facilities in North America. This location will also boast a Customer Experience Center, which will provide visitors with an opportunity to learn about Inventus Power's long-standing history and evolving capabilities.
Inventus Power is placing a significant investment in new equipment to continue to best serve its medical customers. The Tijuana facility is a Medical Center of Excellence, supporting the development of Class I, II and III Medical Devices. It is ISO 9001, 13485 and C-TPAT certified. As with all Inventus Power facilities that build healthcare products, the Tijuana location will follow the Patient Priority Program, a behavior-based quality program that creates a culture of empowerment and accountability. Inventus Power employees are encouraged to consistently think about the people (often patients) who benefit from a medical device and make it a priority to ensure that safety, quality and reliability stay top-of-mind throughout the entire build process.