Kopin Corp. has entered into an agreement with Hitachi Maxell, Ltd. to produce and market new high-capacity lithium-ion batteries for use in head-worn wearable products based on silicon oxide with carbon (SiO-C) in the anode. The new technology doubles the capacity for a given battery volume compared to today's conventional lithium-ion batteries.*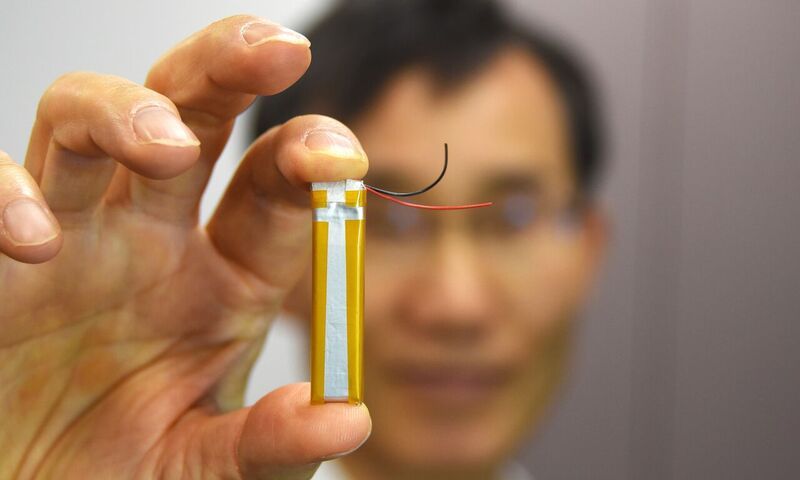 Under the terms of the agreement, Kopin will exclusively market the batteries to OEM customers under the brand name SiMax for use in head-worn wearable products. The first SiMax battery measures  46 by 10.5 by 5.5 mm with 400 mAh capacity. Initial production will begin in the second quarter of 2016 and the batteries will be used in Kopin's Solos cycling eyewear product.
Conventional Li-ion battery capacity has been increasing only gradually in recent years. The result has been a widening mismatch between what we'd like to do with mobile and wearable devices and what we can do. Now, the higher capacity, smaller and lighter SiMax batteries will close this gap and enable the performance and product designs that consumers require for wearable products and head-worn systems.
"We are pleased to be partnering with Kopin to commercialize the high-SiO-C-content battery technology, which provides unprecedented capacity in small form factors," said Masao Okafuji, chief technology officer of Hitachi Maxell. "While it has been well known that the use of high-SiO-C-content anode can provide several times the energy density than the graphite anode used in today's Li-ion cells, until now serious technical challenges prevented its use. We have now overcome these technical challenges and are ready to commercialize the first batteries using this new technology."
"Our collaboration with Hitachi Maxell represents a leap forward in battery technology and the wearables market," said Dr. John C.C. Fan, president and CEO of Kopin. "Wearables will only reach their potential if the technologies inside them can support the best possible user experience. Smaller, longer-lasting, lighter batteries are a critical building block for the success of wearables, in addition to compact displays that provide large, high-resolution images and speech enhancement technology that provides reliable communication in all noise environments. Kopin, along with its partners, is leading the industry to develop and deliver these technologies that will propel the wearables market forward."
The markets and applications for wearable computing devices are growing rapidly in areas such as sports, healthcare, manufacturing, warehousing, gaming, drone racing and others. In all of these applications, small battery size and weight, and long run-time are critical factors for user satisfaction. The SiMax technology will enable significant improvements in product design and performance for all of these applications.
*Twice the energy density compared with conventional lithium-ion batteries: Research by Hitachi Maxell (November 2015). Compared with lithium-ion batteries with width under 13mm presented on websites of each company.