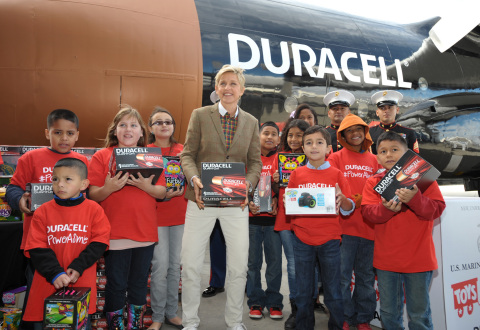 Duracell has launched its Power a Smile program, which will donate up to 1 million batteries to Toys for Tots, the brand's largest donation to the organization. Every eligible Duracell battery pack purchased will trigger a donation to Toys for Tots, which collects new toys to distribute to less fortunate children every holiday season.
"As a father it's a joy to see my children's faces light up on Christmas morning as they unwrap their gifts," said Jeff Jarrett, marketing director for Duracell. "It's a memorable moment that shouldn't be spoiled because the toy is missing batteries. Through Duracell Power a Smile, we want to ensure every parent and child, no matter their circumstance, can experience that joy."
To launch the Duracell Power a Smile program, Ellen DeGeneres joined Duracell and Toys for Tots at Van Nuys Airport in Los Angeles. DeGeneres, along with Marines conducting the Toys for Tots Campaign in Los Angeles, helped prepare a C-130 cargo aircraft with Duracell batteries and toys. The plane was symbolically sent to go forth and collect batteries and toys for children in need.
"I love what Toys for Tots does," said Ellen DeGeneres. "But if you think about it, a toy without a battery on Christmas morning is so sad. It's like the ocean without the waves…or rain without the rainbow…or a strawberry without the daiquiri. I'm thrilled to join Duracell and to help bring a little extra joy to kids this season."
"Toys for Tots is grateful for the support from both Duracell and Ellen as we start our work of collecting new toys from all over the country leading up to Christmas," said retired Marine Major Bill Grein, Vice President of the Marine Toys for Tots Foundation. "Batteries are a critical part of our program as they play a big role in creating a wonderful holiday experience for children in need."
To trigger a battery donation to Toys for Tots and stock up on batteries for the holidays, consumers can simply purchase an eligible Duracell Quantum or CopperTop battery pack at any major local retailer. Duracell will donate one battery for each Duracell Quantum AA 12 or CopperTop AA 16 pack purchased, from now until Dec. 27.