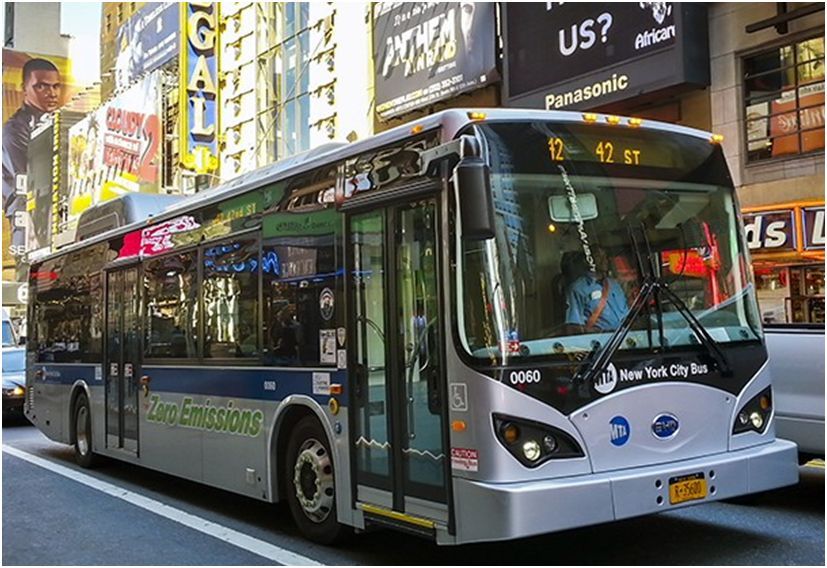 BYD and the New York Metropolitan Transportation Authority (MTA) have concluded a pilot test on a BYD 40-foot, zero-emissions, battery-electric bus. The test period was from Aug 25th to Oct 25th totaling two months in service and the final report data has been summarized for distribution.
"The general purpose of the program was to evaluate how an electric bus could perform in New York City's heavy traffic, whether the electric bus can meet the twin challenges of operating in the stop-and-go traffic of Manhattan while maintaining high levels of passenger comfort and operational performance," said MTA's spokesman Kevin Ortiz.
The bus tested at MTA was supplied by BYD Motors, based out of Southern California, and offers a range of 140-155 miles average between charges. Charging is intended to only be completed at night during off peak hours to reduce unwanted demand on the grid, and takes three to four hours to return to full capacity.
The testing was carried out on different routes throughout Manhattan. The total distance covered during the trial was 1,481 miles. The BYD all-electric bus "performed excellent" with an average battery consumption of 1.4 miles per percent SOC, translating to more than 140 miles per full charge in heavy traffic. The average speed of electric bus was ~4 miles per hour under Manhattan's heavy traffic. After two months of running, the electric bus's average battery duration was 0.3 hours per percent SOC, translating to 30 hours of operation per full charge, as opposed to other competitors that require en route recharging every two to three hours during peak-rate times. These uninterrupted operational hours are more meaningful in a busy city like New York, as routes and speeds travelled tend to be short in distance but long in duration. When contrasted to Diesel bus technology, BYD's electric buses are far more efficient in energy consumption because Diesel engines are still idling when in heavy or stopped traffic.
In April of 2013, BYD was awarded a $12.1 million contract with California's Long Beach Transit Authority to produce 10 zero-emissions, all-electric buses. Then in June, the Los Angeles County Metropolitan Transportation Authority (LA Metro) announced a contract with BYD for the manufacture and delivery of up to 25 of the same battery-electric buses. The contract is part of the county's $30-million clean air bus technology pilot project.