February 28, 2018 | News Brief | Bosch aims to lead the mass market for electromobility that will emerge after 2020. In this endeavor, it is relying on its systems expertise and the development and manufacture of key components of the electrical powertrain, such as the electric motor, power electronics, and battery systems. The company will continue to buy in the cells needed to make these battery systems. For economic reasons, Bosch has decided not to set up cell manufacturing operations of its own.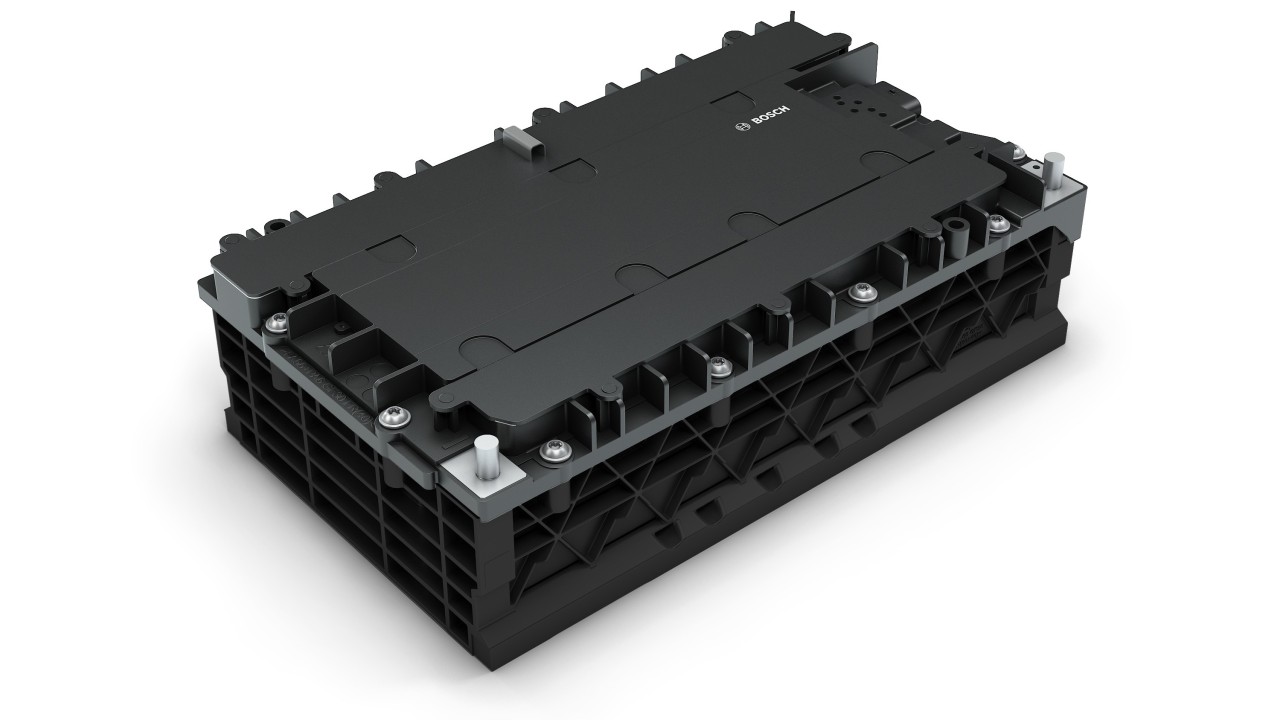 "For Bosch, it's important to have a technical understanding of cells. We don't have to make them ourselves," says Dr. Rolf Bulander, member of the board of management of Robert Bosch GmbH and chairman of the Mobility Solutions business sector.
Established automakers are currently extending their vehicle ranges to include many electrified models. At the same time, start-ups are entering the market with new electromobility concepts. Bosch's electromobility strategy takes account of these dynamic market developments. Its objective is to make electric driving more viable and mass-marketable. The strategy Bosch is pursuing involves increasing electric vehicles' energy efficiency, using systems expertise to intelligently link all the components of the powertrain, and using standardized components to make electromobility scalable and affordable. Beyond the vehicles themselves, Bosch is developing solutions for the recharging infrastructure.
Bosch will continue to work with cell suppliers to design cells for hybrid- and electric-vehicle batteries, and buy these cells from them. For this reason, the company is disbanding its research into current and future cell technologies, whose brief was to assess the feasibility of in-house cell production. The Lithium Energy and Power GmbH & Co. KG (LEAP) joint venture for lithium-ion technology will be dissolved. The subsidiary Seeo, which researches into solid-state technology, is to be sold. In a center of competence, Bosch will continue to add to the comprehensive battery-cell expertise it has built up over recent years. As was occasionally the case in the past, several hundred associates will continue to work on battery systems. They will develop battery-management systems and 48-volt battery systems, and draw up the specifications for cells. "Even now, Bosch is capable of integrating individual components into complete systems. We make highly efficient 48-volt battery systems and develop attractive battery-management systems," said Dr. Mathias Pillin, who is responsible for electromobility activities at Bosch. The technology development work at the center of competence will benefit not only automotive applications but also products from other parts of Bosch, such as household appliances and power tools.
Regardless of the decision that has now been made, Bosch sees huge potential in solid-state technology.
"Technically speaking, we've made excellent progress in our development work. Solid-state technology is the way forward," Pillin adds. The decision to continue buying in cells in the future is the result of a lengthy economic assessment, in which it became clear that investing in the commercialization of cell technologies, whether improved existing technologies and future ones – is too risky. For a competitive, market-relevant cell manufacturing operation, calculations showed that the initial investment alone would be some 20 billion euros. This sum would allow the company to set up manufacturing capacity of approximately 200 gigawatt-hours, equivalent to a 20 percent market share, and thus a leading position in the market.
In addition to this initial investment, there would be operating costs running into billions, and three-quarters of the manufacturing cost would be cost of materials. This would therefore leave only a narrow scope for creating and exploiting competitive advantages. Given dynamic external market factors that can only be predicted with difficulty, it is unclear whether this investment would pay off for Bosch, and when. In the interest of the company as a whole, therefore, such a risky investment cannot be justified.