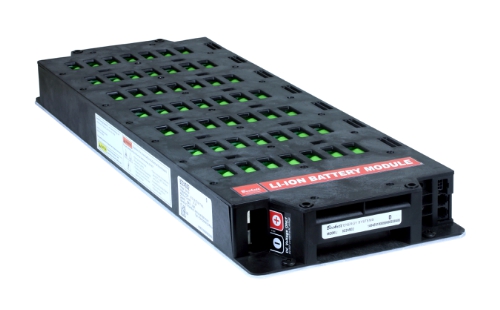 Beckett Energy Systems (BES) has announced that its 24 volt large format lithium-ion module has reached a significant long cycle life milestone that further supports its use as a  solution for emerging advanced energy products.  Commercially launched in February 2014, Beckett's 24 VDC lithium-ion battery module has undergone continuous life cycle testing reaching 3,650 cycles, the equivalent of 10 years of life if cycled daily.
In recent years, lithium-ion batteries have experienced a notable increase in adoption in large format applications.  This, combined with the rapid advancements in materials and formulations, has created a situation where true long term performance and reliability data are not widely available.   Life expectancy predications are often extrapolated based on individual cell data; however, many factors affect battery life in a larger system, including how deeply the battery is discharged, how fast the battery is charged and discharged, as well as the surrounding temperature.
"Long cycle life leads to fewer battery replacements over time, reduces system downtime, and lowers the need for spare battery packs, allowing Beckett Energy to offer a low total cost of ownership lithium-ion battery solution for our customers," said Brad Moore, senior business development manager at BES.  "Through extensive testing of the Boston-Power cell in our commercial model 8224S, 1.1kWh module, we are able to demonstrate this long cycle life milestone."
"Boston-Power is very pleased to have its long cycle life performance validated through the rigorous testing in Beckett Energy System's robust module product," said Boston-Power's director of Business Development and Marketing, Darren Bischoff. "The combination of our cell product with Beckett's battery system is a well-engineered solution for customers that highly value long cycle life, energy density, wide temperature performance and high reliability."
Scalable from 1 to 100 kWh of capacity, customers can be confident in the long cycle life of Beckett's lithium-ion battery module with Boston-Power cells.