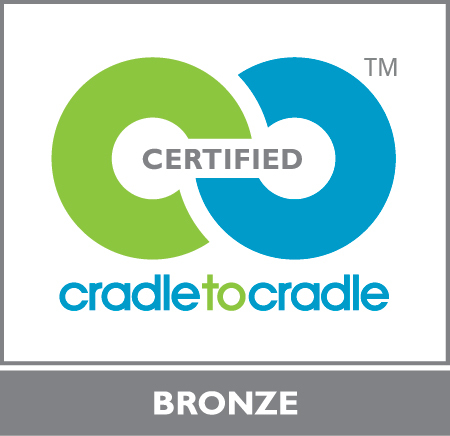 Aquion Energy, Inc., developer and manufacturer of Aqueous Hybrid Ion (AHI) batteries and energy storage systems, has announced that the AHI S20 and S20-P Product Lines are the first batteries to be Cradle to Cradle Certified Bronze, a quality mark recognized across industries to provide a continuous improvement pathway toward the development of quality products. The product lines were evaluated by MBDC, an Accredited Assessment Body and the creators of the Cradle to Cradle Certified Products Program, across five quality categories. The certification was awarded by the Cradle to Cradle Products Innovation Institute.
"Entering the Cradle to Cradle Certified Products Program and earning Bronze level achievement for our battery stack is a tremendous validation of the work started eight years ago at Carnegie Mellon University," said Dr. Jay Whitacre, founder and chief technology officer of Aquion Energy. "We set out to see if we could create a new battery technology that was environmentally sustainable, safe, and cost-effective while meeting the strict performance requirements of off-grid and grid-tied stationary energy storage applications. In thinking about the quantity of batteries that will be deployed globally alongside renewable energy systems, it makes sense to use clean and sustainable batteries."
The AHI battery is made using a saltwater electrolyte, carbon composite anode, manganese oxide cathode, and synthetic cotton separator. This unique environmentally-friendly electrochemical design entered into the Cradle to Cradle Certified Products Program is the first battery in the world to qualify under the methodology's comprehensive criteria. The battery contains no heavy metals or toxic chemicals and is non-flammable and non-explosive making it the safest battery in the world, designed for use in pristine environments, island locations, homes and businesses.
"Aquion Energy made informed design decisions every step of the way to ultimately come up with a product that embodies the very essence of the Cradle to Cradle design framework, safe materials, perpetually cycled," said Jay Bolus, president, Certification Services, MBDC. "As the first and only batteries to be Cradle to Cradle Certified, the Aqueous Hybrid Ion S-Line products are a testament to the years of work by the Aquion Energy team to develop an innovative new battery for renewable energy storage that is also good for the environment."
"The AHI battery proves that designing a sustainable product does not mean compromising on performance," said Scott Pearson, CEO of Aquion Energy. "Our Cradle to Cradle Certified battery offers unmatched long duration performance and is the ideal energy storage solution to pair with renewable energy generation systems."
Cost effective energy storage enables system owners to maximize self-consumption of solar and wind, reduce reliance on diesel, control peak energy costs, manage intermittency, and ensure stability. The Cradle to Cradle Certified Bronze S20 and S20-P batteries are designed to deliver robust performance for years of maintenance-free operation in residential solar, off-grid, and microgrid applications.
Cradle to Cradle Certified is an independent, third-party verified certification program that assesses products and materials for safety to human and environmental health, design for future use cycles, and sustainable manufacturing. Cradle to Cradle Certified products are evaluated for material health, material reutilization, renewable energy use, water stewardship, and social fairness. Product certification is awarded at five levels (Basic, Bronze, Silver, Gold, and Platinum), with each higher level imposing a more rigorous set of requirements. The lowest score in any quality category establishes the product's overall score.