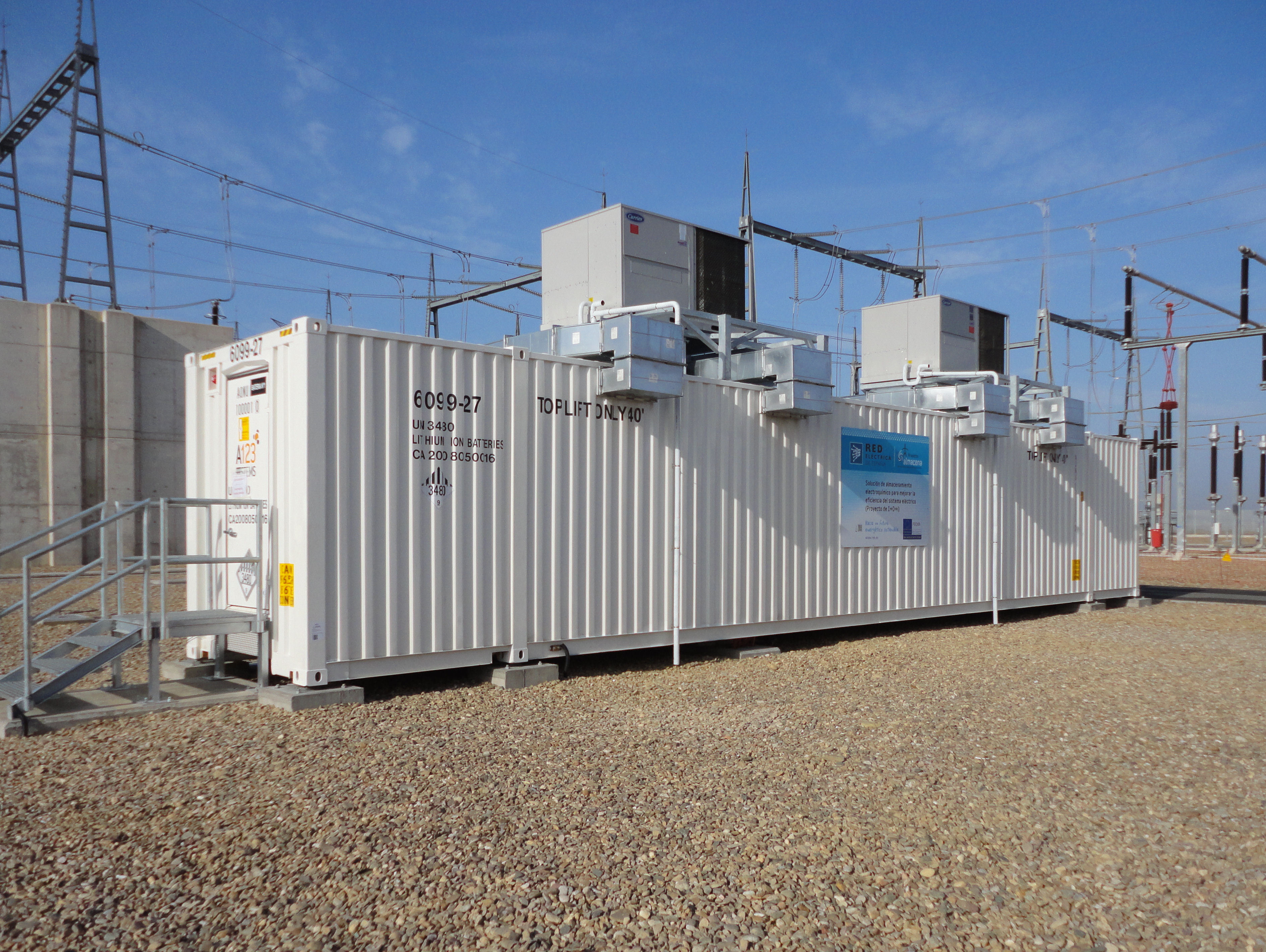 A123 Energy Solutions, a  developer and manufacturer of advanced energy storage systems, announced the recent commissioning of its Grid Storage Solution (GSS) for Red Eléctrica de España (REE), the Spanish Transmission System Operator (TSO). The system is rated at 1 MW for three hours, includes power conversion and controls, and was installed and commissioned at the Carmona substation near Seville in late December. The energy storage project, named Almacena, was led by REE and was co-financed by the European Regional Development Fund. A123 Energy Solutions provided a turnkey solution to REE, performing all the site preparation, installation, final commissioning and maintenance of the standardized 1 MW/3 MWh system.
The battery will be used to store energy for later use, improving the effectiveness of renewable generation, and also provide reactive power, frequency regulation, and voltage regulation in mixed mode operation. "This installation demonstrates the viability of stacking applications and increases the value that storage can bring to the grid. With the Seville project online, the total amount of our Grid Storage Solutions deployed worldwide is about 118 MW and 37 MWh," said Bud Collins, president of A123 Energy Solutions. "The growing presence of utility-scale energy storage in locations around the world shows that mature grid storage technologies like the GSS are reliable, safe, and ready to be deployed to support the grid for both renewable integration and ancillary services."
At the core of this new system is the Long Duration Grid Battery System (GBS-LD) with energy storage configurations that range from as little as 100kW to large multi-megawatt arrays. The GBS-LD can be packaged in a variety of different enclosures, ranging from standardized 20-foot, 40-foot, and 53-foot long containers to custom enclosures, and the systems are also available for installations in pre-existing buildings or other locations. Utilizing A123 Systems Nanophosphate prismatic cell technology, the LD GSS can pack up to 100MW of energy storage onto a single acre of land, and is designed for applications like peaking, shifting, capacity firming, or transmission and distribution (T&D) support. The GBS-LD product line complements A123 Energy Solutions' widely-deployed GBS-HR (High Rate) grid energy storage product which is used for high power applications in the 15-minute timeframe including frequency response, frequency regulation, and renewable ramp management.