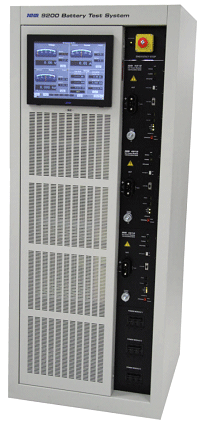 NH Research has introduced its new Model 4960 regenerative, bi-directional power module, a core building block of the Model 9200 Battery Test System.  The 4960 (600 V/40 A) joins the 4912 (120 V/200 A) in providing independent power module operation ideal for low power testing and parallel power module operation to meet higher power testing needs such as EV battery pack applications.
NHResearch power modules are flexible, scalable and measurement-rich test instruments used for testing batteries, fuel cells, super capacitors and power electronics.  The battery simulation feature accelerates testing of BMS, APM, charger and other battery related electronics.
NH Research has released "EnerTest", a new graphical test sequencer specifically optimized for energy storage device testing.  Test engineers can rapidly generate complete test routines, take measurements (temperature, voltage, strain), manage huge data streams, control environmental chambers, communicate via the CAN bus and generate detailed test reports without writing a single line of code.