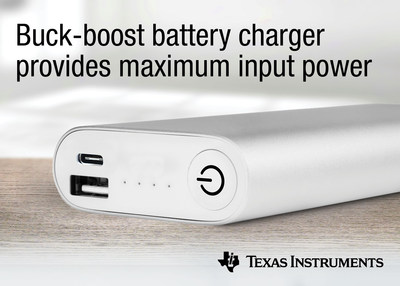 Texas Instruments (TI) has introduced a pair of flexible, single-chip buck-boost battery charge controllers for one- to four-cell (1S to 4S) designs. The bq25703A and bq25700A synchronous charge controllers support efficient charging through USB Type-C and other USB ports in end equipment ranging from notebooks and tablets to power banks, drones and smart home applications.
Supporting both I2C and SMBus interfaces, the bq25703A and bq25700A feature a new battery algorithm enabling full power output by adding intelligence to battery charging through maximum power point tracking technology. The unique algorithm, referred to as input current optimization (ICO), automatically detects the full capacity of input power to optimize current, while maintaining consistent system and charging current to ensure the utilization of maximum input power.
The device's USB Power Delivery compatibility offers an input voltage range from 3.5 V to 24 V, which designers can use in multiple ports including USB 2.0, USB 3.0 and the newest standard, USB Type-C.
The new charge controllers support input-ready devices from 5 V to 20 V and adjustable output for USB OTG with programmable current regulation. TI's new battery-charging algorithm and intelligent detection features enable the battery charge controllers to support wide input and output voltage ranges and more compact adaptor designs.
The devices support 1S to 4S batteries and an efficient transition between buck and boost operation without any dead zone.
Designers can use the bq25700A evaluation module (EVM) to evaluate device features and performance and speed time to market. The bq25703A EVM and the bq25700A EVM are available from the TI store and authorized distributors for $149.00. Designers can use the WEBENCH Battery Charger Designer to calculate the efficiency of the battery charge controller.