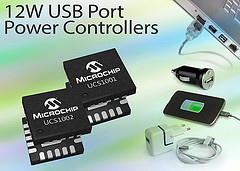 Microchip Technology, Inc. has expanded its programmable USB port power controller portfolio with the three-member UCS100X family.  These power controllers offer advanced USB-based charging capabilities for designing host devices, such as laptops, tablets, monitors, docking stations and printers; as well as dedicated AC-DC power-supply and charging products, such as wall adapters.
Microchip's USB port power controllers, the UCS1001-3, UCS1001-4 and UCS1002-2, are an expansion of its UCS1001 and UCS1002 series.  These new controllers offer higher current and priority charging for smartphones and tablets.  The UCS100X have also added support for active cables, such as the Apple Lightning connector, along with 12 W charging.  The UCS1002-2 features a built-in current sensor that can report on the amount of charging current.  This allows a system to optimize its charging current and appropriately allocate power.  Additionally, the UCS100X can support future USB product designs via a flexible method for detecting and creating charging emulation profiles.  This allows designers to update their systems as new products are introduced to the market, while providing compatibility with a wider range of existing products.
The UCS100X family is supported by Microchip's new UCS1001-3/4 Evaluation Board and UCS1002-2 Evaluation Board, both of which are available today from any Microchip sales representative or authorized worldwide distributor.
The UCS1001-3, UCS1001-4 and UCS1002-2 are available now for sampling in a 20-pin QFN package.  Pricing starts at $0.90 each, in 5,000-unit quantities.