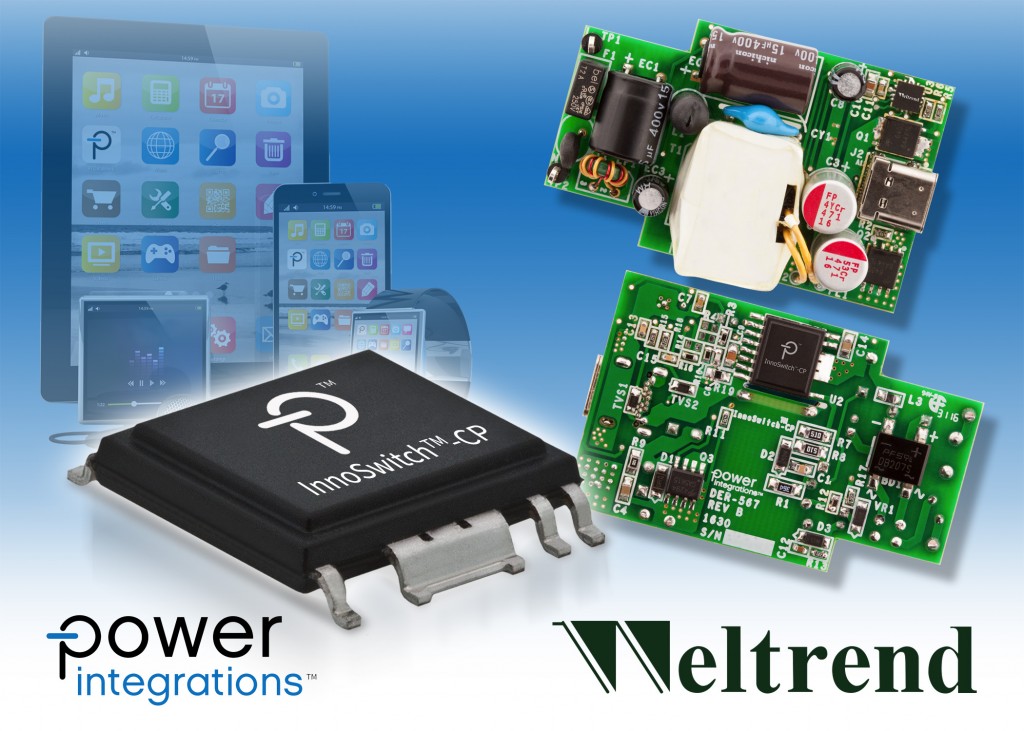 Power Integrations, in association with Weltrend Semiconductor, Inc., has announced a joint reference design describing an 18 W, USB PD compliant, AC-DC power converter targeted at chargers for smart mobile devices. The design, titled DER-567, pairs the WT6630P USB Type-C PD controller from Weltrend with Power Integrations' InnoSwitch-CP off-line CV/CC flyback switcher IC, enabling designers to produce a compact and highly energy-efficient standards-compliant power adapter.
According to Shyam Dujari, director of marketing for Power Integrations: "USB PD adds significant intelligence to adapters and allows more power to be delivered flexibly and safely. Users can expect faster charge times for the larger batteries required to power next-generation mobile devices."
Weltrend's WT6630P USB PD controller is certified by USB Implementers Forum (USB-IF)  for USB Type-C and is compatible with the USB PD 2.0 baseband communication protocol. The Weltrend device reduces the BOM by combining Type-C cable detection circuits, USB PD physical layer (PHY), and components related to system-level protections such as over-voltage protection (OVP), over-current protection (OCP), and over-temperature protection (OTP).
By providing a constant power output, Power Integrations' InnoSwitch-CP switcher IC allows battery-operated devices to draw maximum power from the charger at any selected output voltage, optimizing charge time and cost. InnoSwitch-CP ICs use the company's innovative FluxLink technology, eliminating the need for an optocoupler and enabling secondary-side control that delivers fast transient performance, exceptional CV/CC regulation and very low no-load power consumption. FluxLink technology also enables easy implementation of safe synchronous rectification, resulting in an extremely efficient power supply.
"With Type-C cable and USB PD protocol support, an 18 W adapter is the logical next level for rapid charging and we are pleased to work with Weltrend on this joint reference design," said Dujari.  "The WT6630P controller delivers a highly cost-effective implementation of the USB 2.0 specification, helping leading suppliers in bringing a USB PD compliant adapter to the market. The design is already in mass production by a leading smartphone OEM."