Implementing pack-side battery gauges in portable devices is now easier and more secure with the ModelGauge m5 portfolio of MAX17201/MAX17205 and MAX17211/MAX17215 from Maxim Integrated Products, Inc.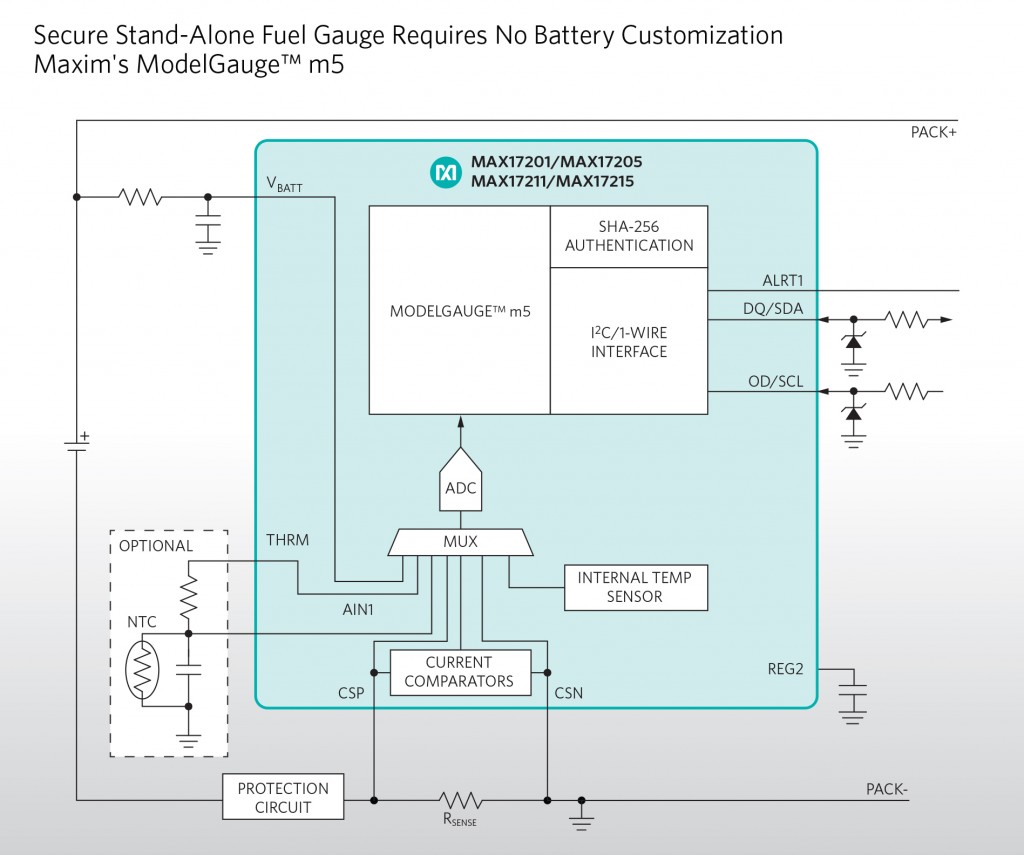 Fuel gauging can be difficult because battery voltage varies with temperature and load, while coulomb-counting requires sophisticated compensation to eliminate offset accumulation errors. Maxim's ModelGauge m5 fuel gauges include a sophisticated algorithm that converts raw measurements such as battery voltage, current, and temperature into accurate state-of-charge (SOC percent), absolute capacity (mAhr), time-to-empty, and time-to-full (while charging), all of which improve the user experience of the host device while enabling maximum run-time. To ease the design process, the ModelGauge m5 EZ configuration eliminates the time and resource-consuming characterization process for a large number of battery types. In addition, Maxim's ModelGauge m5 fuel gauges are the industry's first to integrate SHA-256 for secure authentication to prevent battery clones.
Battery packs generally need to be replaced every few years, when batteries age, their characteristics change over time and no longer provide adequate run-time. The ModelGauge m5 robust algorithm detects the smallest changes in the capacity of the battery to more accurately predict how long the battery will last before the capacity degrades rapidly. With the Cycle+ age forecast information from ModelGauge m5 fuel gauges, system designers are able to adjust charger parameters to extend the battery life, or to plan a timely replacement of the battery. Maxim's ModelGauge m5 portfolio of products are ideal for any rechargeable battery operated device, such as wearables, drones, tablets, smartphones and other IoT applications.