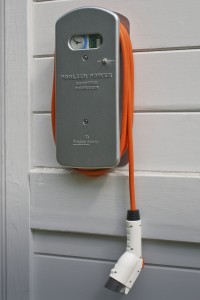 Poulsen Hybrid LLC has introduced its unique, patented Poulsen Power Level 2 EV Charging Station. Unlike competing brands, the Poulsen Power Charging Station eliminates the time and expense of running a dedicated 220 V/240 V line from a building's power panel to the charging location. With level 2 charging, most plug-in vehicles need five to 10 hours for a full charge of the batteries. In comparison, a 120 V Level 1 charging requires twice the time or 10 to 20 hours for a full charge.
Poulsen Power Level 2 charging is accomplished by converting a 120 V circuit serving the garage area into a 240 V circuit. The conversion is done by replacing the single throw circuit breaker in the building's power panel with a double throw breaker that provides the 220 V/240 V line to the garage area using existing wiring. A built-in 1,500 Watt step-down transformer in the Poulsen Power charging station utilizes the same wiring to power existing 120V outlets, garage door openers and lighting.
The savings are especially significant for detached garages or other remote structures where the charging station is installed as there is no need to excavate and replace already existing underground wiring from the main building to the location.