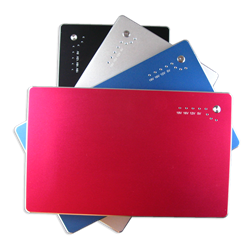 This charger is capable of extending the battery life of a variety of Windows-based laptops by three to six hours in a single charge. It can also recharge many other mobile devices including tablets, smart phones, digital cameras and more.
Because of its portability and high capacity 20,000 mAh lithium polymer battery, the Professional Power Pack is well suited for road warriors, traveling professionals, students and anyone else who takes their laptop on the go.
Adding the higher capacity portable charger to their lineup was a natural next step for Roving Power, which currently has an expanding collection of smaller power packs. The company is focused on bringing consumers affordable backup batteries of all sizes to meet the growing needs of an increasingly mobile population. As mobile devices become more feature-rich so does their energy consumption, despite makers' efforts to enhance the life of installed batteries. The result is continued issues with devices that lose power because users aren't able to plug them in.